Nigerian Houses are being Bottled Up! 14,000 Plastic Bottles to Build a House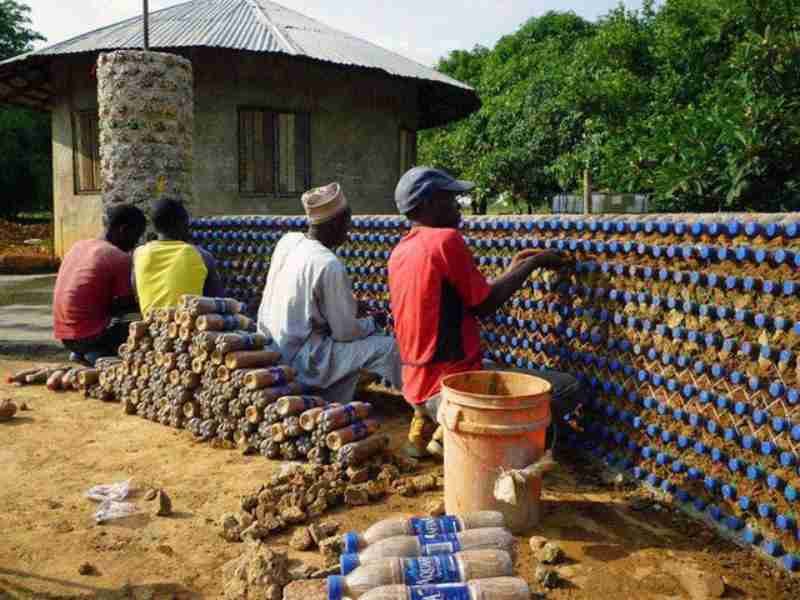 Have you ever imagined what it would be like to live in a house made entirely of plastic bottles? It may sound strange, but for many Nigerians facing a housing crisis, this is becoming a reality.
A Nigerian man named Yahaya Ahmed built a two-bedroom bottle house in Kaduna State out of 14,000 plastic bottles, and the idea has been catching on ever since.
As an architecture enthusiast, I was drawn to this unique approach to building houses. It is not only an environmentally friendly and cost-effective solution, but it is also surprisingly durable and can withstand harsh weather conditions.
Filling the bottles with sand transforms them into sturdy building blocks that can be used for walls, floors, and even roofing.
In this article, I'll explore deeper into the concept of bottle houses and examine the advantages and disadvantages of using this approach to address Nigeria's housing crisis.
Join me as we discover how Nigerian homes are being bottled up and what this means for the future of sustainable housing.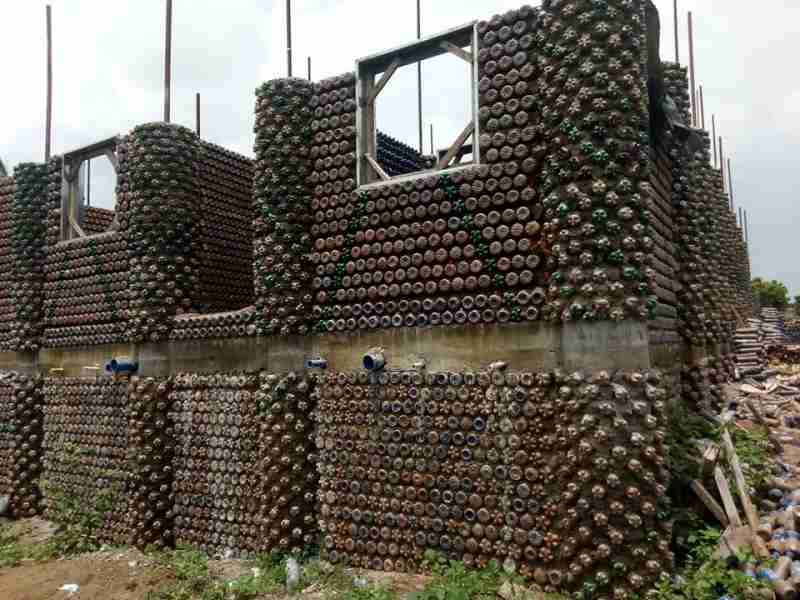 What Are Bottle Houses?
Let's take a closer look at what bottle houses are and why they're gaining popularity in Nigeria. Bottle houses are homes made from plastic bottles. They are made by filling the bottles with sand, stacking them like bricks, and securing them with cement or mud.
One of the most significant benefits of using plastic bottles in construction is their environmental friendliness.
Builders can help reduce the amount of plastic waste in the environment by using discarded plastic bottles. This method of construction is also inexpensive because plastic bottles are widely available and can be collected for little or no cost.
Bottle houses are not only environmentally friendly and affordable, but they are also extremely durable.
Sand-filled bottles provide excellent insulation and can withstand harsh weather conditions. In fact, some builders claim that bottle houses can last for up to 300 years!
It is regarded as a viable solution to Nigeria's housing crisis, in which millions of people lack proper shelter. With the help of this innovative building technique, more people can now afford to build homes and live in better conditions.
Builders can create durable homes that can withstand harsh weather conditions while also reducing plastic waste in the environment by using discarded plastic bottles as construction materials. In the next section, we will take a closer look at how to build a bottle house in Nigeria.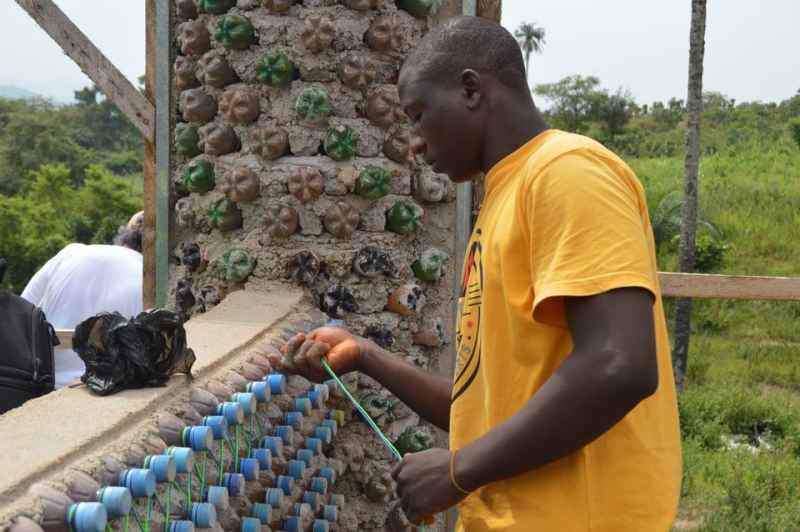 Building a Bottle House in Nigeria
Now that we have a better understanding of what bottle houses are and their benefits, let's look at how to build a bottle house in Nigeria.
Collecting plastic bottles is the first step in making a bottle house. Bottles can be collected from recycling centers, landfills, or even your own neighborhood.
Once you have a sufficient number of bottles, fill them with sand. The sand-filled bottles are then used to construct the house's walls. You can use a cement, sand, and water mixture to keep the bottles in place.
The bottle house's roof can be made of traditional roofing materials such as iron sheets or thatch. A layer of thermal insulation material, such as fibreglass or foam, should be added to ensure proper insulation.
To give the bottle house a more aesthetically pleasing finish, paint the walls with a mixture of cement and sand. Traditional building materials can also be used to add windows and doors to the house.
It is important to note that building a bottle house necessitates careful planning and design in order to ensure structural integrity. Before beginning this project, it is recommended that you consult with a professional architect or builder.
A bottle house, with proper planning and design, can provide a comfortable and safe living space for families in Nigeria.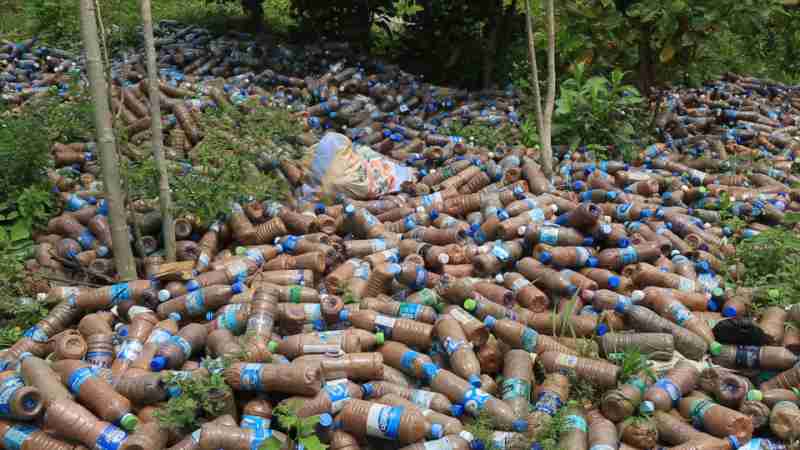 Challenges and Limitations
While bottle houses have gained popularity in Nigeria as a sustainable and affordable housing solution, there are several challenges and limitations associated with this building technique.
One of the most difficult challenges is ensuring the house's structural integrity. To ensure that the walls are stable and can withstand harsh weather conditions, bottle houses must be properly planned and designed. If the house is not built correctly, it may collapse or sustain damage, putting the occupants' safety at risk.
Another issue is the scarcity and poor quality of materials. While plastic bottles are readily available, it is critical to use bottles in good condition that can withstand the weight of the sand and cement. The quality of the cement and sand used is also critical to the structural integrity of the house.
Furthermore, constructing a bottle house can be time-consuming. Collecting and filling bottles, mixing cement, and constructing the walls all take time and effort. This can be difficult for people who need to build a house quickly.
Finally, while bottle houses are environmentally friendly, they may not be the most visually appealing. The walls might not be smooth, and the bottles might be visible. This can be a problem for people who care about the appearance of their homes.
Proper planning and design, the availability of high-quality materials, and the time and labor required are all critical considerations. Nonetheless, with proper execution, bottle houses can be a long-term and cost-effective solution to Nigeria's housing crisis.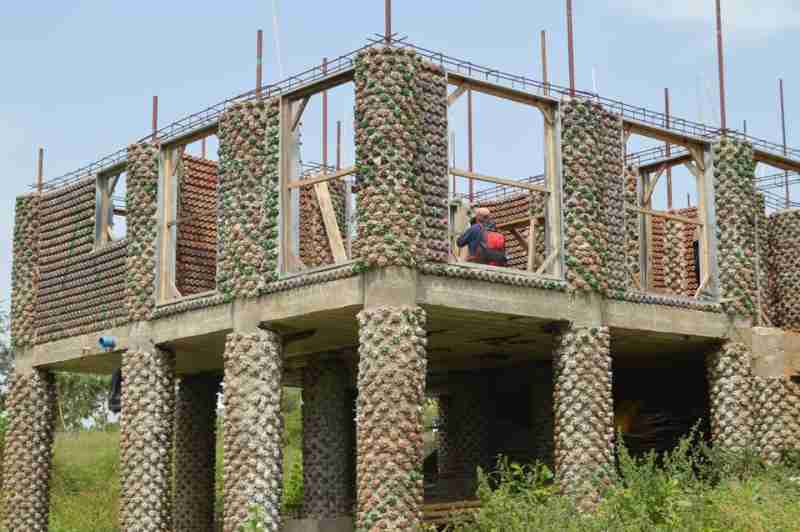 Toxic pollutants released by plastic waste harm humans, animals, and plants. Plastic takes hundreds, if not thousands, of years to decompose, therefore the environmental impact is hard.
"I only feel angry when I see waste. When I see people throwing away things we could use"

Mother Teresa ( Click to Tweet this quote )
Every day, more than 125 million plastic bottles are thrown in the United States, with 80 percent of them ending up in landfills.
This quantity of trash may be reused and utilized to build roughly 10,000 houses. Considering that home of size 1200-square-feet requires an average of 14,000 plastic bottles to construct.
As we've seen, bottle houses provide a sustainable and affordable solution to Nigeria's housing crisis. It is now up to us to support and implement these sustainable housing solutions. Let us raise awareness about the advantages of bottle houses and encourage their construction in our neighborhoods.
We can reduce our carbon footprint, promote eco-friendliness, and improve the quality of life for those in need by supporting sustainable housing. Let us make a difference and work together to create a more sustainable future.
SEE MORE
Nigerian Houses are being

Bottled Up!
33 Ideas For Reusing Plastic In Your Home