The 20 Most Unbelievable People In The World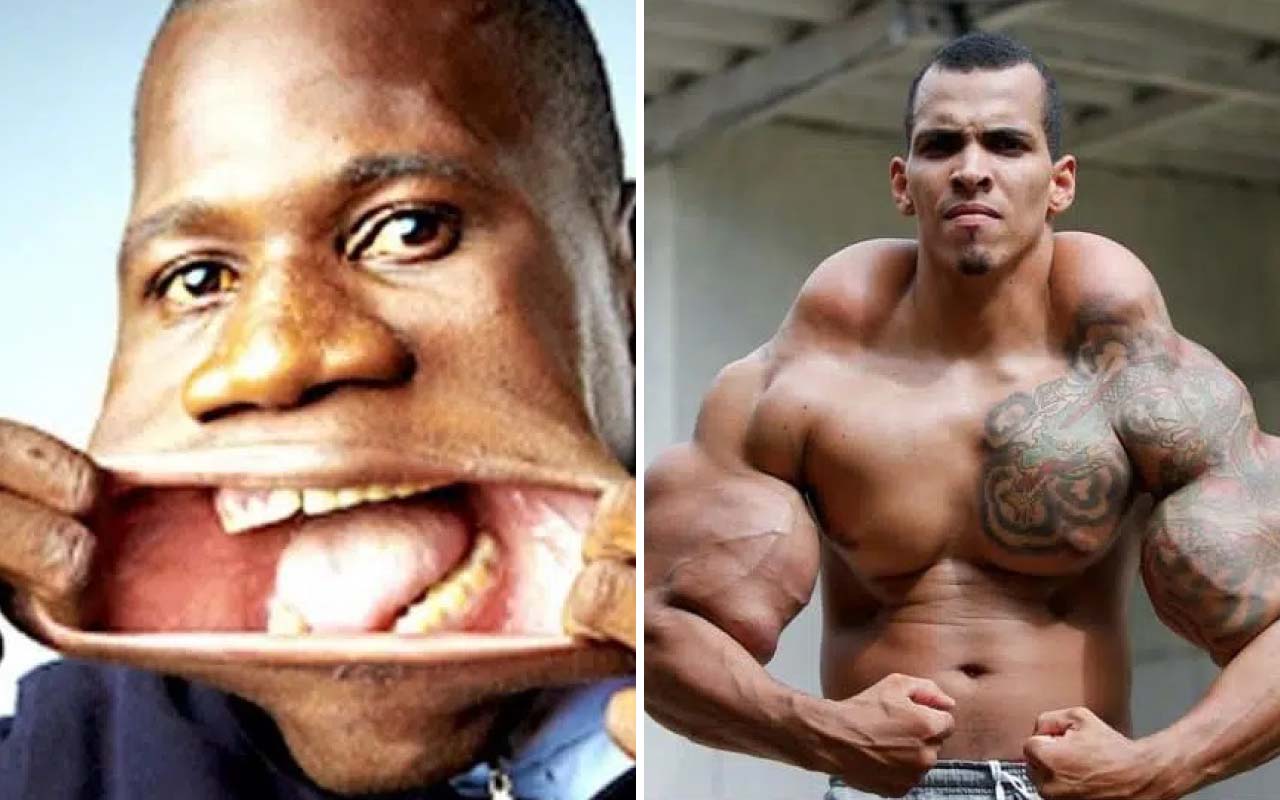 Isn't it fascinating how every individual has something that sets them apart, making them truly special? But wait, hold on to your hats because there are folks out there that'll make you wonder if they walked straight out of a superhero movie!
Picture a bodybuilder with muscles so enormous, they could give the Incredible Hulk a run for his money. And how about a girl with x-ray eyes, seeing through things like a modern-day superheroine?
And if that's not enough, imagine a woman lifting weights using nothing but her hair and ears! It may sound like pure fiction, but believe it or not, these extraordinary people are living among us, making the world a more incredible place.
So, without further ado, here's a mind-boggling list of these amazing individuals, each with their jaw-dropping superpowers. Prepare to be amazed!
Biggest Mouth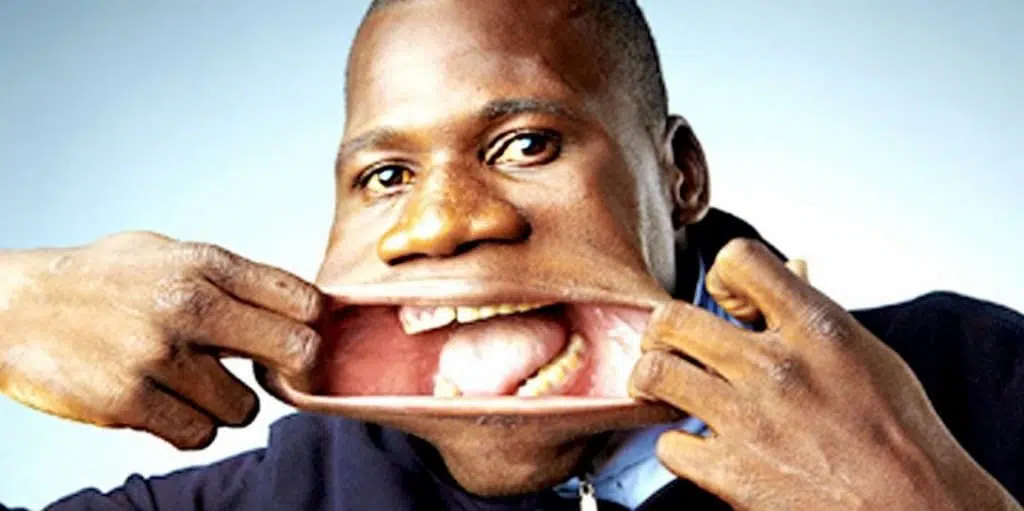 Let me introduce you to the one and only Francisco Domingo Joaquim, a man who possesses an absolutely jaw-dropping talent! This guy holds a world record for sporting the most colossal mouth you've ever seen.
Picture this: his impressive mouth measures a whopping 6.69 inches, which is larger than life! It's no exaggeration when I say he could effortlessly fit an entire soda can in there, like a human vending machine.
Can you believe it? Francisco is like the real-life embodiment of those incredible circus acts we used to watch in awe as kids!
Doctor NakaMats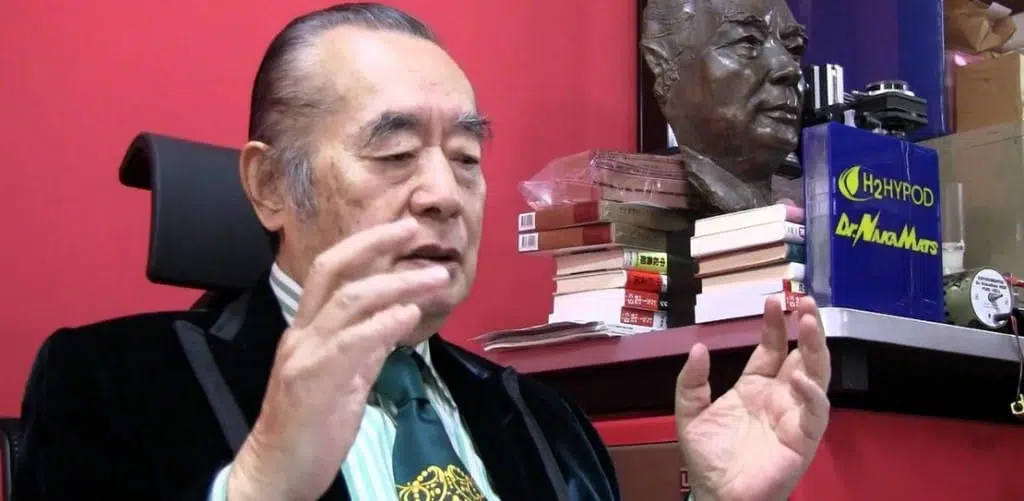 Now, let's talk about the ingenious Japanese inventor, Yoshiro Nakamatsu, famously known as Doctor NakaMats! This brilliant mind has achieved something truly remarkable, earning him the prestigious title of holding the world record for the most inventions!
He's like the Thomas Edison of our time, constantly churning out groundbreaking creations. One of his extraordinary inventions is the PyonPyon spring shoes, which I can only imagine would make us bounce around like kangaroos on a trampoline! But that's not all; Nakamatsu has an unusual habit that'll leave you intrigued.
For a whopping 40 years, he has been diligently photographing and analyzing every single meal he's eaten. It's like he's on a culinary scientific expedition! This guy's dedication to invention and his unique mealtime documentation make him a true genius with a dash of quirkiness!
Metal-Eating Man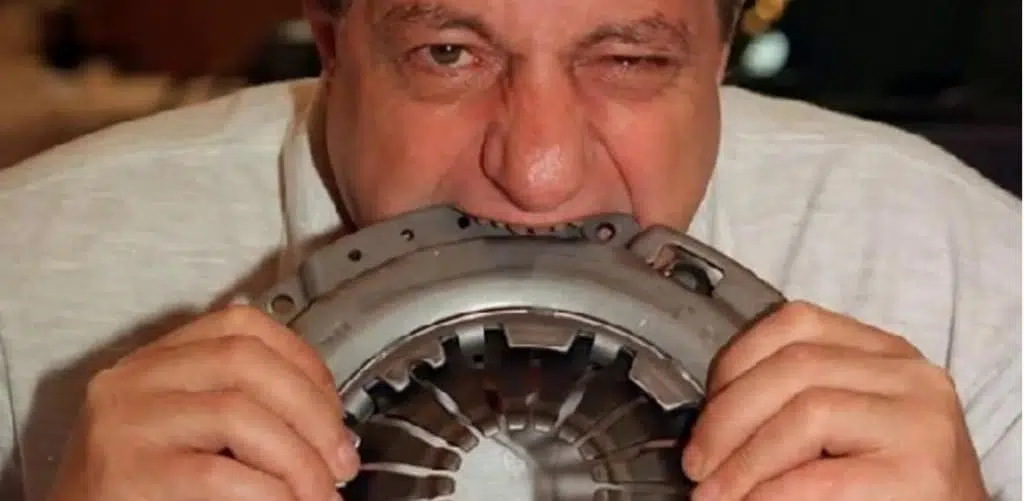 Hold your breath, because this story will blow your mind! Meet Michel Lotito, a Frenchman with an astonishing appetite for… metal! Yeah, you heard that right – he consumed a jaw-dropping nine tons of metal over four decades!
Now, that's what I call a metallic feast of epic proportions! But here's the twist: in his younger days, poor Michel struggled with a mental disorder called pica, which made him crave non-edible stuff like plastic. Imagine snacking on things that weren't meant to be eaten! But it didn't stop there.
As Michel began experimenting with more daring delicacies, like glass, he stumbled upon an incredible revelation. His superhuman insides, equipped with a tough lining, gave him the power to devour almost anything that crossed his path. It's like he turned into a living, breathing recycling machine, gobbling up all sorts of materials! Quite the extraordinary tale, right?
Oldest Yoga Instructor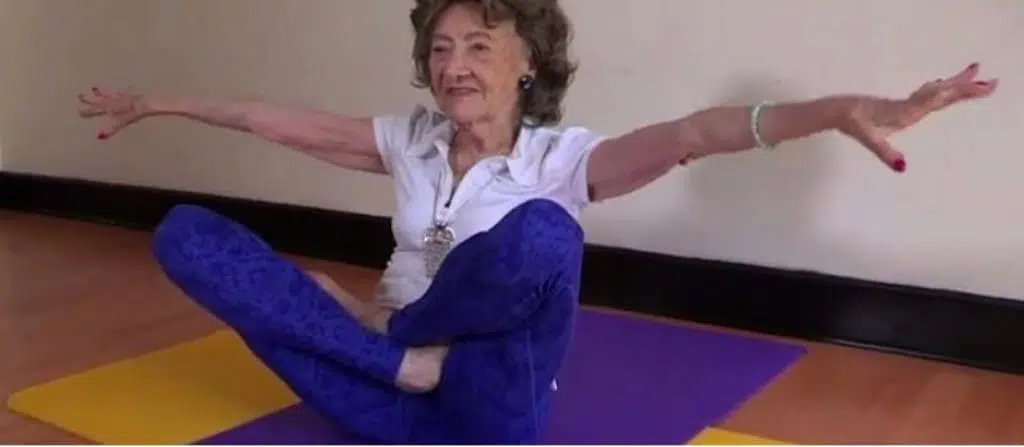 The incredible Tao Porchon-Lynch, a yoga master like no other! At the ripe age of 96, she's been devoted to the art of yoga for a mind-blowing 70 years! Can you imagine the wealth of wisdom and experience she must have accumulated over those seven decades?
It's like she's unlocked the secret to the fountain of youth through her yoga practice! And get this – she kicks off every single morning at the crack of dawn, precisely at 5 am, to share her magical knowledge with her eager students.
They must feel like they're learning from a living legend! Picture this amazing lady gracefully guiding her pupils as they stretch, bend, and conquer even the most challenging yoga poses.
It's as if she's a yoga wizard, revealing the secrets of this ancient art to her enchanted disciples! If Tao Porchon-Lynch's story doesn't light a fire of motivation in your heart, I don't know what will!
Iron Queen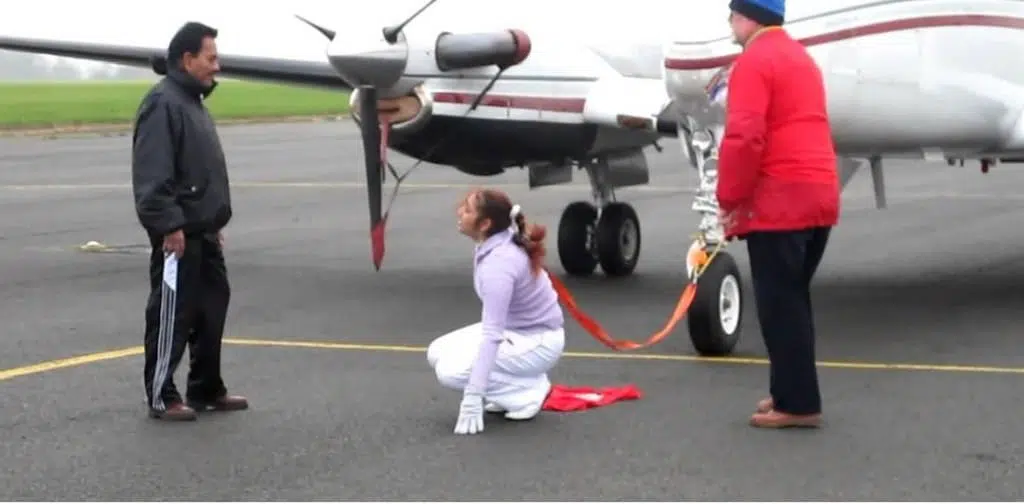 The one and only Asha Rani, a true iron-wielding queen! This 23-year-old powerhouse has set not just one but two jaw-dropping world records, all thanks to her hair and ears!
Yes, you heard that right – she lifts weights with these unexpected body parts! It's like watching a real-life superwoman in action! With her hair flying and her ears holding on tight, she defies gravity with her impressive strength and determination.
It's no wonder she's earned the well-deserved nickname "the Iron Queen" – she's a force to be reckoned with! So, the next time you think something is impossible, just remember Asha Rani and her incredible feats of strength, and you'll find the motivation to conquer any challenge that comes your way!
Oldest Active Pilot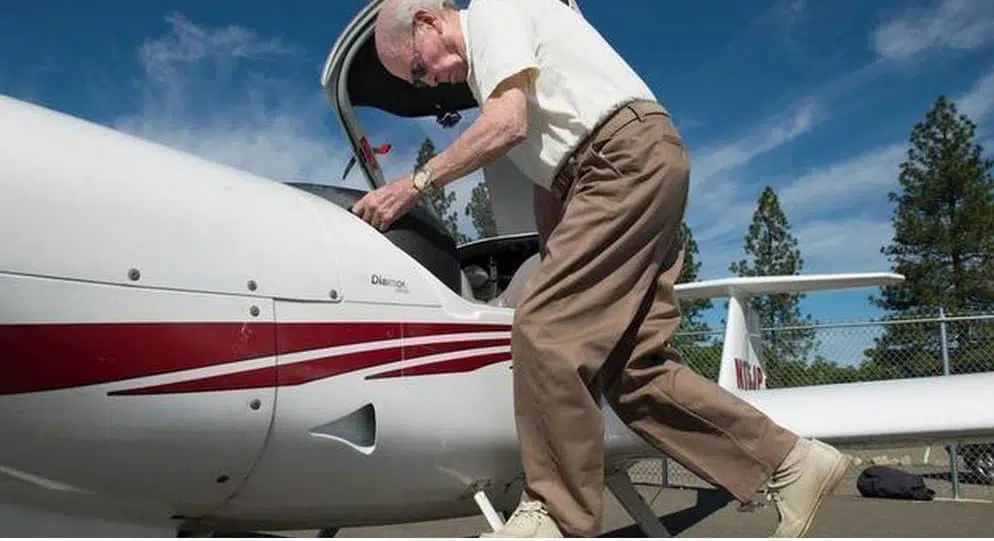 Hold on to your flight helmets because we're about to soar into the skies with an aviation legend! Meet Peter Weber Jr., the oldest active pilot on the planet! At a sprightly 95 years old, this California-based aviator has an impressive record of flying for a staggering 72 years!
Can you imagine the sights he's seen and the experiences he's had during all those years in the air? It's like he's the captain of a never-ending adventure! Despite the passing years, Peter's passion for flying remains as strong as ever.
He takes to the skies about twice a month, proving that age is just a number when it comes to doing what you love. His determination is like a well-oiled engine, powering him through the skies and inspiring us all to chase our dreams, no matter how old we are.
So, let's raise our wings to Peter Weber Jr., the high-flying role model who proves that age is no barrier to reaching for the stars!
Smallest Waist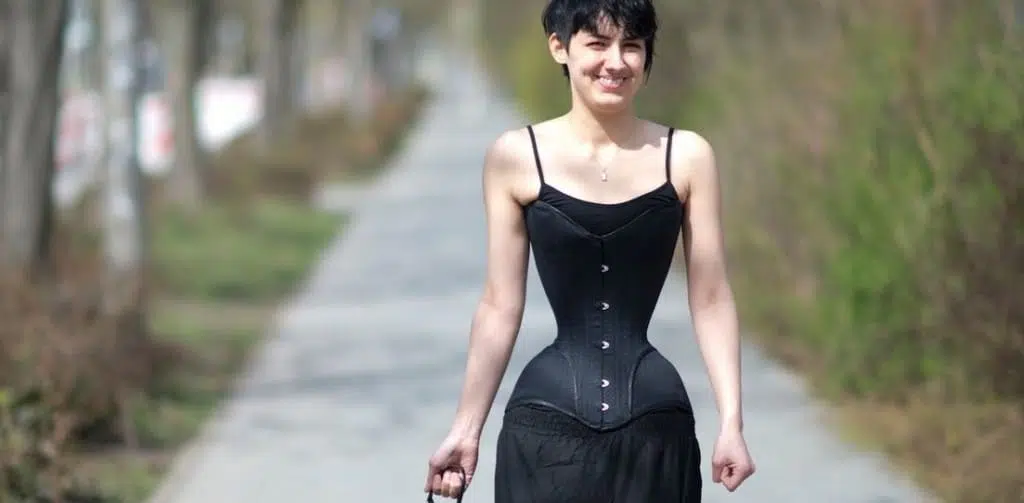 Get ready for a story that'll make you do a double-take! Meet the determined Michele Kobke, a 26-year-old with a truly astonishing goal – shrinking her waist to unimaginable proportions! It's like she's on a mission to redefine what's possible for the human body.
Can you believe she managed to slim down her waist from 25 inches to a jaw-dropping 16 inches? That's like taking an already slim waist and making it even tinier! And get this – she achieved this feat by wearing a corset every single day for three whole years!
It's like she's on a quest to become the real-life version of an hourglass. But she's not stopping there, oh no! Michele is determined to take it even further and whittle her waist down to a remarkable 14 inches! It's like she's breaking all the rules of human anatomy and defying what we thought was possible.
Michele's dedication and determination are like the secret sauce that'll leave you wondering, "What else can this incredible woman achieve?"
Woman Who Can Remember Everything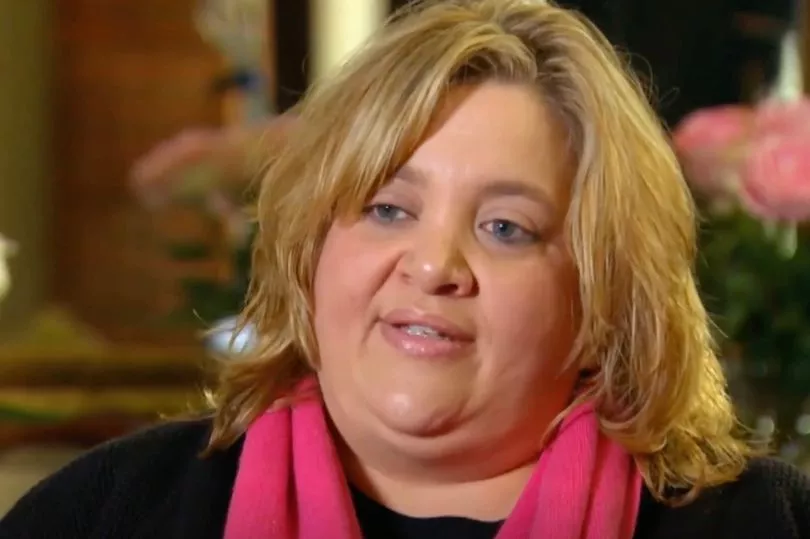 Jill Price; the woman who can remember everything. This incredible woman claims to possess a superpower that puts even the sharpest minds to shame. Picture this: since her teen years, she's been able to recall every single detail about her life – who she met, what she ate, and even the precise time she woke up!
It's like she's got a photographic memory that captures every moment with impeccable clarity. Can you imagine being able to relive your past with such vividness? But here's the kicker – Jill's memory is like a treasure trove, accessible through secret codes.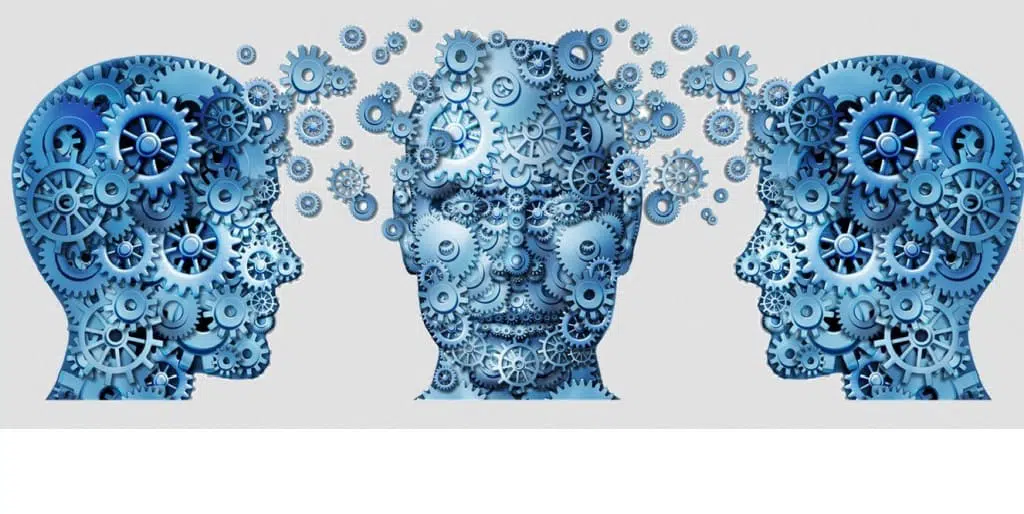 Locations and smells act like magical keys, unlocking the wealth of information stored in her extraordinary brain. It's like she's living a real-life movie, and every place and scent is a ticket to replaying her past.
The more we learn about Jill Price, the more we realize that human potential is far greater than we can imagine. So, let's raise a toast to this walking, talking memory vault who reminds us that our minds are capable of wonders beyond belief!
Oldest Man To Climb Mount Everest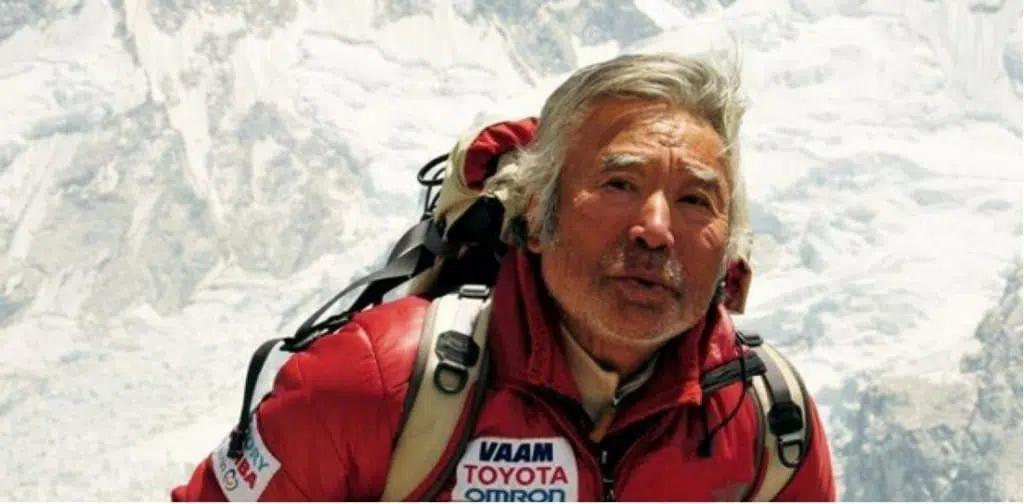 Yuichiro Miura, a true mountaineering legend! Picture this – at the awe-inspiring age of 80, this incredible soul defied all odds and conquered the world's highest peak – Mount Everest! It's like he's the living embodiment of the saying "age is just a number."
With each step he took, he proved that determination and passion know no boundaries. Mount Everest must have been in awe itself as it welcomed this tenacious octogenarian to its summit! But wait, that's not all! Yuichiro's exploits don't end there.
He first caught the world's attention back in 1970 when he achieved the unimaginable – becoming the very first person to ski down the mighty Mount Everest! It's like he's a real-life action hero, fearlessly taking on the world's most challenging terrains and leaving a trail of inspiration in his wake.
Yuichiro Miura's story teaches us that age is just a canvas on which we can paint our dreams, and with enough courage, we can achieve the impossible!
Man Who Permanently Raised His Hand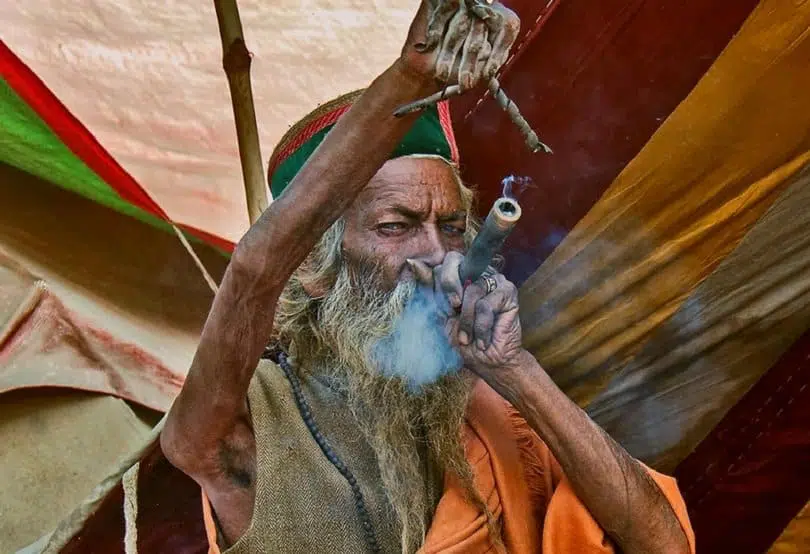 Sadhu Amar Bharati, a man whose unwavering faith knows no bounds! Back in 1973, he performed a powerful act of reverence to the Hindu god Shiva by raising his arm in eternal homage, and believe it or not, he hasn't lowered it since!
It's like he's become a living, breathing embodiment of devotion, with his arm forever reaching out to the divine. His unwavering dedication is like a lighthouse, guiding countless followers who have chosen to walk the same path. They too have raised their arms in a beautiful display of faith, echoing the same gesture for decades!
It's like a symphony of devotion, with each follower adding their note of spiritual resonance to the melody of faith. Sadhu Amar Bharati's story reminds us that true dedication can lead us to remarkable feats, and that when we lift our hearts and spirits in devotion, we can touch the divine in ways that transcend the limits of the physical world. So, let's stand in awe of the faith that binds this incredible community together!
Bionic Woman
Eileen Brown, a true warrior from England! Over the last two decades, she has faced numerous challenges, enduring several operations like a true champion. It's like she's been through a series of battles, emerging stronger with each fight.
But here's the incredible part – after all those surgeries, her body has undergone a transformation, and now, her only remaining natural joints are her left elbow and left hip! It's like she's become a real-life bionic wonder, proving that the human spirit can adapt and overcome even the most daunting obstacles.
With her artificial joints, she's like a masterpiece of engineering, demonstrating that with the right support and determination, we can endure and thrive in the face of adversity. Eileen Brown's story is a testament to the power of the human spirit and the boundless possibilities that await us when we embrace life's challenges head-on!
Skydiving Granny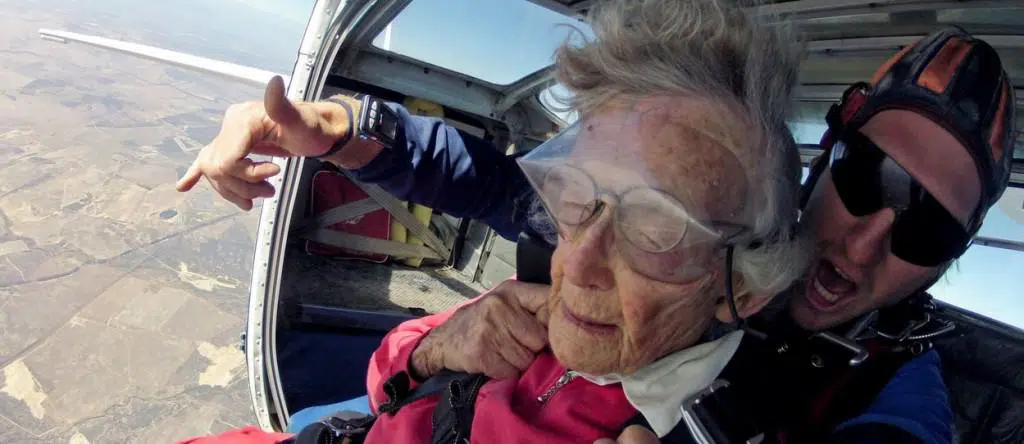 Hold on to your hats, because we're about to meet the fearless centenarian, Georgina Harwood! Can you believe it? At the ripe age of 100, she decided to take her sense of adventure to the skies and go skydiving in South Africa! It's like she's rewriting the book on what it means to be young at heart!
March this year was the perfect time for this incredible grandma to spread her wings and soar like a bird, enjoying the thrill of freefall with the wind in her hair. But get this – this wasn't her first rodeo! Oh no, she's a seasoned skydiving pro!
She first took the plunge at the age of 92, proving that age is just a number when it comes to living life to the fullest. Georgina is like the poster child for living fearlessly, showing us all that there's no expiration date on adventure and fun!
Her story is an inspiring reminder that life's most thrilling moments await those who dare to take the leap of faith. So, let's raise a toast to Georgina Harwood, the skydiving superstar who teaches us that age is merely a number and that life's grandest adventures can be enjoyed at any stage!
World's Bendiest Woman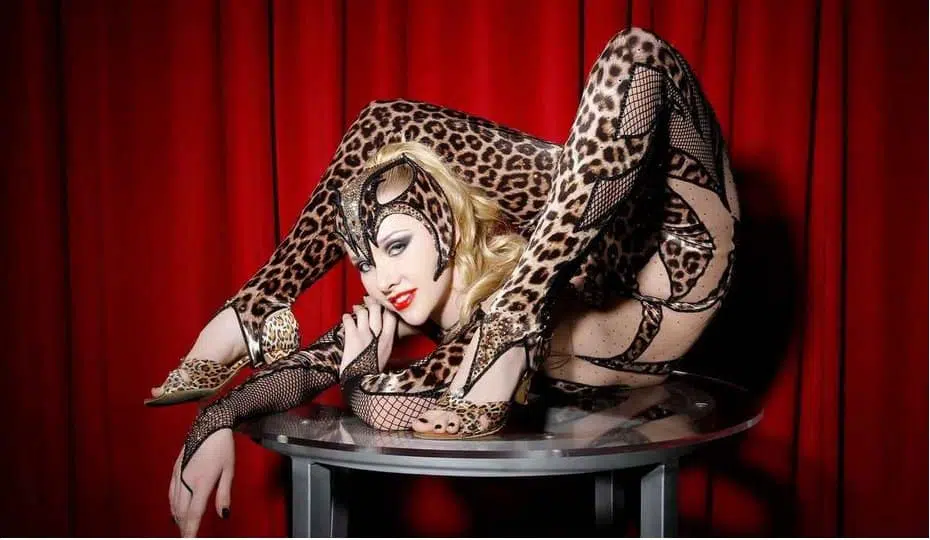 The mind-bending flexibility of Julia Gunthel, also known as the incredible "Zlata"! This Russian sensation has earned her place as the bendiest woman alive in the entire world – and she's got the Guinness Book of Records to prove it! It's like she's made of rubber, defying the laws of human anatomy with her jaw-dropping contortion skills.
Picture this: she can twist and bend her body into positions that'll leave your jaw on the floor! It's like she's a real-life puzzle, and her body is the ultimate enigma waiting to be solved. And here's a fun twist – while she's from Russia, she's taken her incredible talent to Germany, where she lives and showcases her mesmerizing abilities.
It's like she's a superstar of the flexibility world, and her captivating performances leave audiences in awe. Zlata's story is a beautiful reminder that we all possess unique talents and abilities that can make us stand out and shine in this world.
So, let's celebrate the bendy brilliance of Julia Gunthel, the real-life contortion queen who proves that the human body is capable of mesmerizing wonders!
Longest Recorded Working Career In One Job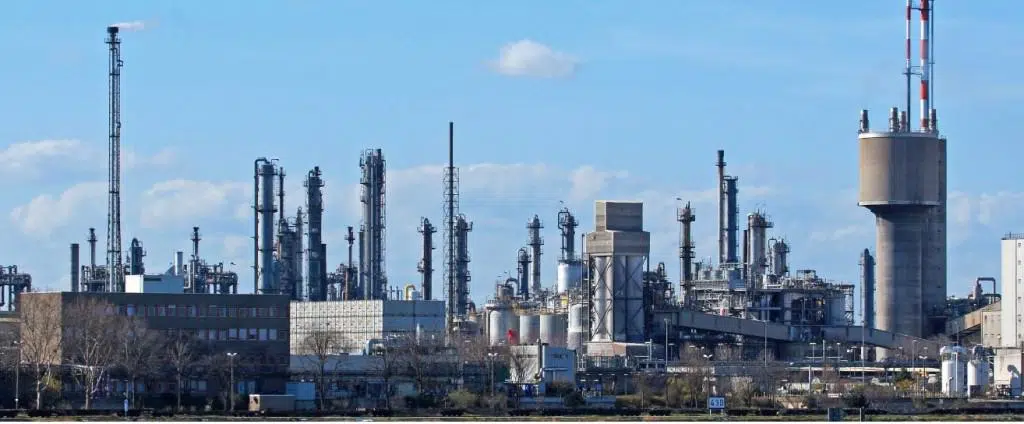 The embodiment of dedication and loyalty – the incredible Miss Polly Gadsby! At the tender age of nine, she embarked on a journey with Archibald Turner & Co. of Leicester, UK, and little did she know that she was about to embark on a record-breaking career!
Can you imagine dedicating your life to one job for an astounding 86 years? It's like she's the real-life version of those heartwarming stories we hear about in fairytales! Through the years, Miss Gadsby remained steadfast at her bench, expertly wrapping elastic like an ageless wizard.
It's like she found her own magical fountain of work ethic, and age couldn't dim her passion and commitment. At 95 years young, she was still there, proving that when you love what you do, work becomes an enchanting journey, and retirement is just a word in the dictionary.
Miss Polly Gadsby's story is a shining example of the timeless value of dedication and passion in creating a fulfilling and purposeful life. So, let's raise our imaginary hats to this extraordinary lady who reminds us that true satisfaction comes from doing what we love, no matter the years that pass us by!
Oldest Pole Dancer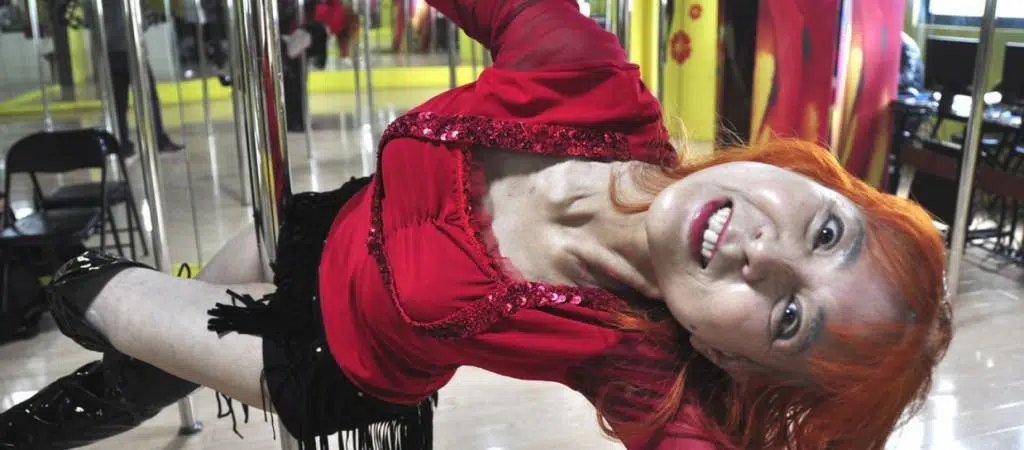 The graceful moves of Sun Fengqin, a 60-year-old pole dancing sensation from Nanjing, Jiangsu Province of China! It's like she's defying age and gravity, proving that pole dancing is an art form that knows no bounds.
Back in 2012, she took her first spin on the pole, and little did she know that she was about to become an internet sensation in China! It's like she's a star in her own right, capturing the hearts of countless fans with her mesmerizing performances.
Sun Fengqin's story is a beautiful reminder that age is just a number when it comes to pursuing our passions. She's like a radiant butterfly, gracefully fluttering through life and inspiring others to spread their wings and embrace their true selves.
Pole dancing isn't just a dance for her; it's an expression of liberation and empowerment, a testament to the boundless beauty of the human spirit. So, let's join in the applause for Sun Fengqin, the pole dancing powerhouse who reminds us all that age is no obstacle when it comes to dancing to the rhythm of our hearts!
World's Longest Mustache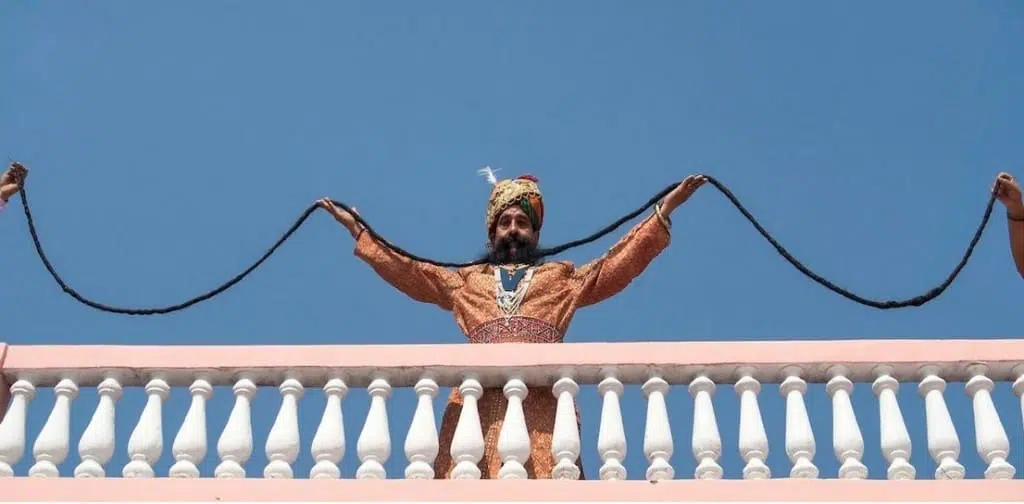 The incredible Ram Singh Chauhan, an Indian gentleman with the most legendary mustache on the planet! His facial hair is like a majestic tapestry, measuring a staggering 4.29 meters in length.
It's like he's got a mustache that's rewriting the very definition of "impressive"! Just imagine the dedication and care he must put into this astonishing feat. Every single day, for a whole hour, he devotes his time to combing and cleaning his marvelous mustache.
It's like he's taming a lion's mane, transforming his facial hair into a work of art! Ram Singh Chauhan's story is a testament to the incredible lengths people will go to showcase their unique talents and abilities. With every stroke of the comb, he's not just grooming his mustache; he's embracing a tradition, a symbol of pride, and a remarkable achievement that has earned him a place in the spotlight.
So, let's raise our imaginary mustaches to Ram Singh Chauhan, the mustache maestro who proves that even the smallest thing can become an extraordinary wonder with passion and dedication!
Powerful Lungs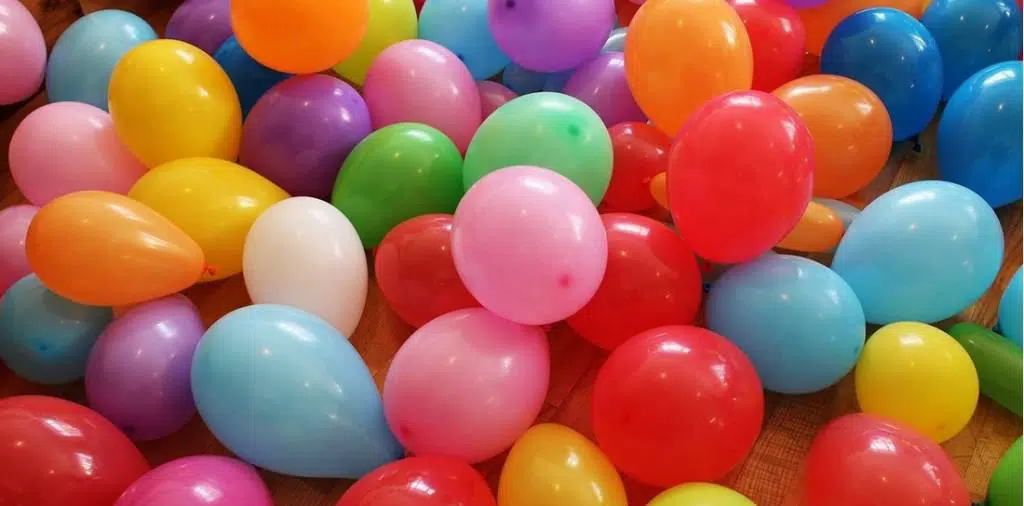 The lung power of the one and only Manjit Singh, a true breathing powerhouse! He's got a talent that's like a hurricane of air – the most powerful lungs in the entire world! It's like he's got a superhero's lungs, capable of feats that'll leave you gasping for breath.
Can you believe he used his incredible lung strength to inflate a balloon to a mind-boggling diameter of 2.5 meters in just 42 minutes? It's like he's huffing and puffing with the force of a thousand windstorms! Manjit's lung power is like a force of nature, and it's no wonder he's earned his rightful place in the record books.
He's the real-life embodiment of the saying "breath of fresh air," proving that we can achieve incredible things with our unique talents. So, let's give a round of applause to Manjit Singh, the lung legend who reminds us that even the power of breath can be an awe-inspiring marvel!
X-Ray Eyes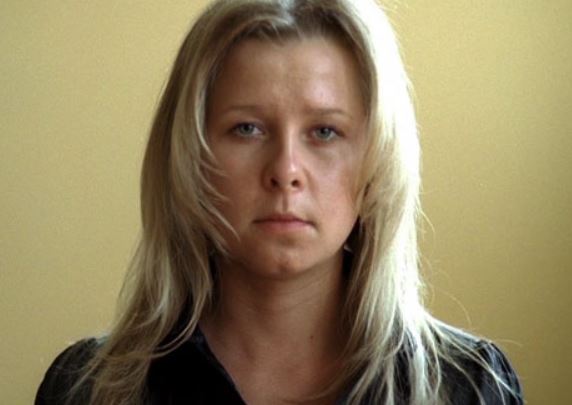 The extraordinary abilities of Natasha Demkina, a Russian marvel who claims to have a gift like no other! She's like a real-life superhero with X-ray-like vision, enabling her to peer inside people's bodies and make diagnoses that rival those of trained physicians.
It's like she's a medical detective, unlocking the mysteries hidden beneath the surface with her incredible power. Can you imagine how mind-blowing it must be to have such a unique talent? Natasha's abilities have gained her a legion of followers, including journalists, doctors, and patients, who are all convinced that her powers are the real deal.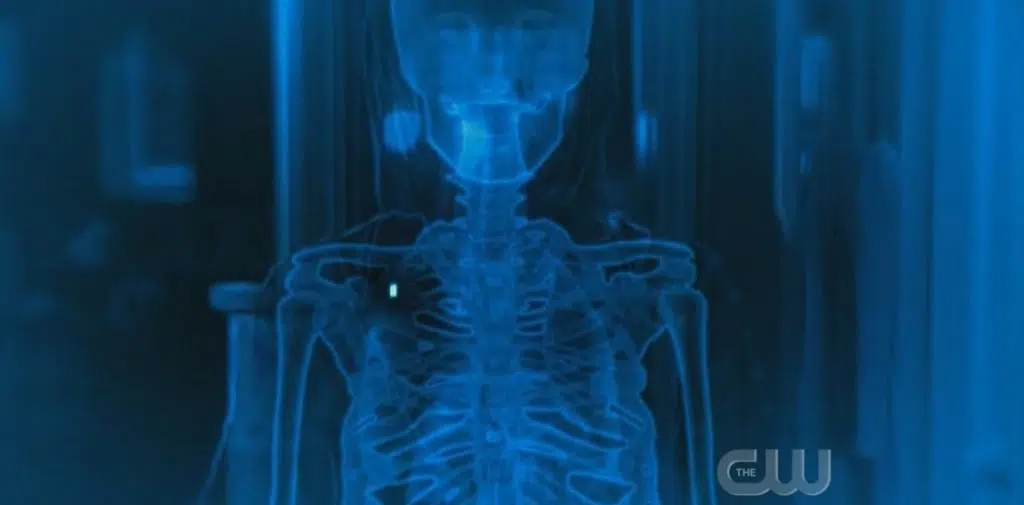 It's like she's captured the hearts and minds of those who have witnessed her awe-inspiring gift firsthand. She's the living embodiment of the saying "seeing is believing," as her abilities have left even the skeptics in awe.
Natasha Demkina's story is a testament to the limitless potential of the human mind and the mysteries that lie within each of us. So, let's raise our glasses to this extraordinary woman who reminds us that sometimes, the most incredible wonders can be found within ourselves.
Devil Horns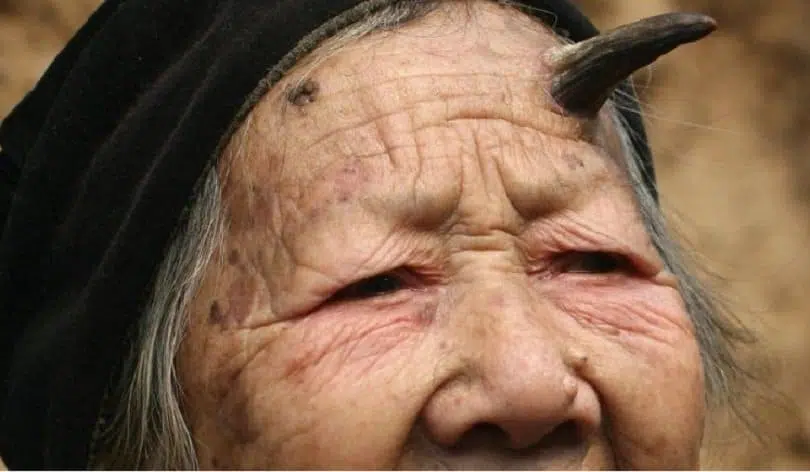 Meet Zhang Ruifang, a Chinese woman who became the talk of the town in 2010 with an astonishing development on her forehead. Brace yourself, because you won't believe this – she grew a horn! It's like something out of a mythical creature's story, except it happened to a real person!
Can you imagine the shock and surprise her family and friends must have experienced? It's like she became a real-life unicorn in their midst! Zhang Ruifang's story is a reminder that the human body can sometimes unveil extraordinary surprises.
It's like she's a walking mystery, and her horn has become a symbol of wonder and curiosity. Her tale surely sparked the imagination of many, leaving people scratching their heads and wondering, "What other incredible mysteries lie within us?"
Zhang Ruifang's story is a testament to the boundless variety of life and the astonishing surprises it can throw our way. So, let's celebrate this unicorn-like wonder and embrace the extraordinary twists that make life a truly remarkable journey!
Incredible Hulk
Meet Romario Dos Santos Alves, a Brazilian bodybuilder with a dream to emulate the incredible Hulk. His ambition was so intense that he took a drastic and dangerous step – he injected a lethal combination of alcohol and oil into his arms!
It's like he wanted to transform himself into a living legend, but instead, he put his life on the line. The consequences were dire – he almost lost his arms and came close to having them amputated! It's like a real-life lesson in the dangers of extreme pursuits and the price we pay for pushing our bodies to unnatural limits.
Romario's story is a stark reminder that our health and well-being should never be compromised in the pursuit of unrealistic ideals. Sometimes, trying to become a superhero can lead us down a dangerous path. So, let's remember that true strength comes from within, and we should embrace our unique selves without resorting to harmful extremes.
The Tallest Man On The Planet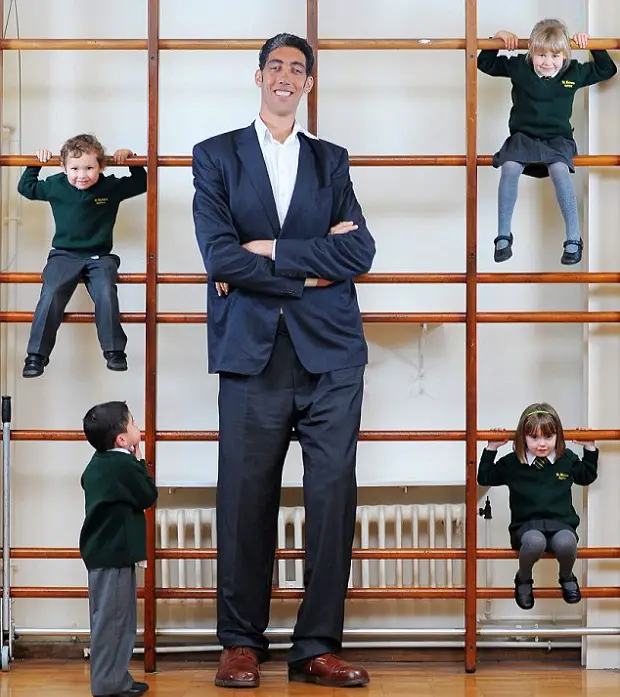 So, picture this: Sultan Kösen, hailing from Turkey, holds the title of the tallest man alive, standing proudly at a staggering 8 feet 3 inches! Can you believe it? He's literally towering over everyone else on the planet right now.
Thanks to Guinness World Records, he's officially recognized as the world's tallest living man. I mean, seriously, how often do you come across someone with a height over 8 feet? Not very often, right?
Now, here's the kicker: Sultan's exceptional height is attributed to a condition called pituitary gigantism, where his body produces an excessive amount of growth hormone. That's like having a supercharged growth engine, powering him to reach incredible heights. It's truly a unique feat that hasn't been seen in ages!
Woman with Extremely Large Legs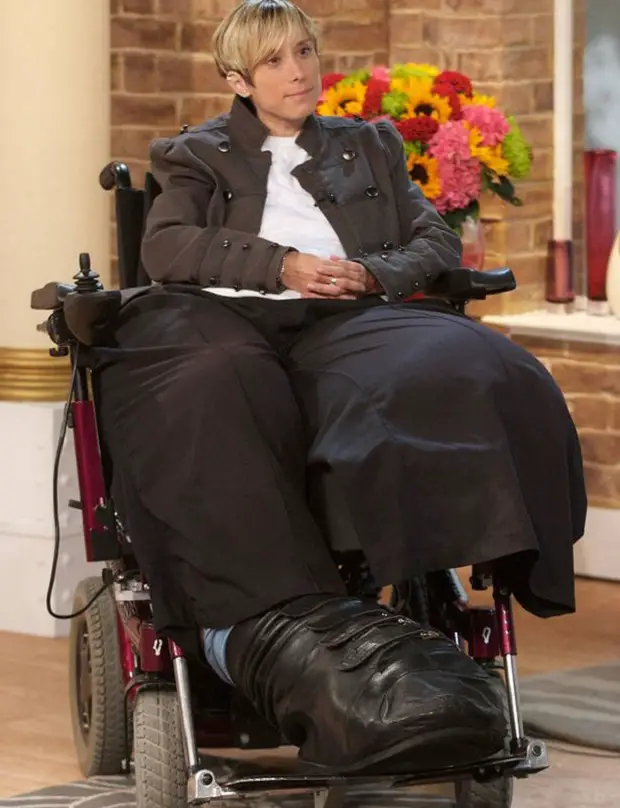 Let me tell you about Mandy Sellars, a remarkable woman from Lancashire, UK, who has a story you won't believe! She's known as the woman with incredibly large legs, and her journey is nothing short of extraordinary.
You see, Mandy was diagnosed with a rare condition called proteus syndrome. This condition is like something out of a sci-fi movie—it causes massive lumps to develop on the skin and bones, leading to deformities and thickening. It's so incredibly uncommon that only 120 people in the whole wide world are estimated to be affected by it. That's like trying to find a specific needle in a haystack!
Now, imagine the challenges Mandy faced with such a condition. She battled through life with these extremely large legs, defying the odds every step of the way. But you know what they say, what doesn't break you makes you stronger, right?
The Dwarf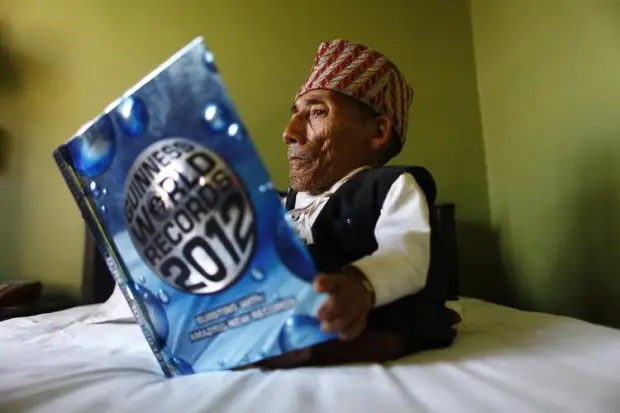 Chandra Bahadur Dangi, a wise old man hailing from Nepal's Salyan district. Now, here's the thing that makes him stand out: his height! Can you believe it? He measures an average of just 54.6 centimeters, which is a jaw-dropping 21.5 inches! Talk about being vertically challenged, right? But hey, that hasn't stopped him from making a big impact.
Thanks to his extraordinary stature, Chandra earned a well-deserved spot in the prestigious Guinness World Records as the shortest man alive. It's like being the MVP of a team with the tallest players, proving that size really doesn't matter when it comes to leaving a lasting mark on the world.
Now, the cause of his unique height remains a bit of a mystery, like a puzzle waiting to be solved. Some speculate that it could be due to an intriguing condition known as primordial dwarfism, but we're still in the dark about the exact cause. Nonetheless, Chandra's story is one of resilience and strength, showing that even the smallest among us can stand tall in their own way.
Man with Zero Percent Fat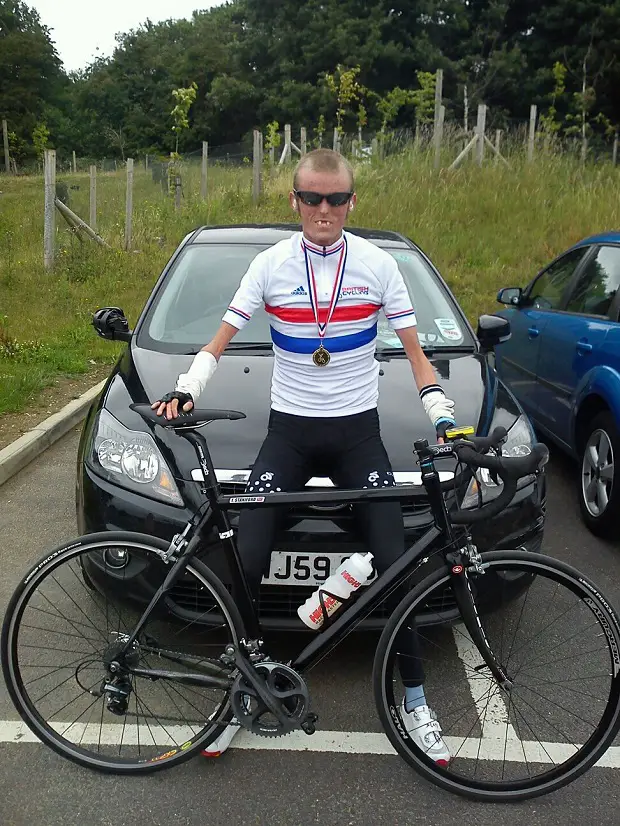 Tom Staniford, a guy like no other. You won't believe this, but he's living with zero percent fat in his body! Yeah, you heard that right, absolutely zero fat! It's like he's defying the laws of biology or something.
Now, the reason behind this extraordinary condition is a rare and challenging one called Myelodysplastic Preleukemic syndrome, or MDP syndrome for short. In this unusual condition, Tom's body simply can't store any fat under his skin. It's like having a treasure chest with no gold—quite an unusual metabolic disorder, don't you think?
To put things into perspective, this disorder is so rare that you can count the total number of people affected by it on your hands—yep, only eight individuals in the entire world. That's like finding a needle in a haystack of needles! It's safe to say that Tom is truly one in a billion.
The Dirtiest Man Alive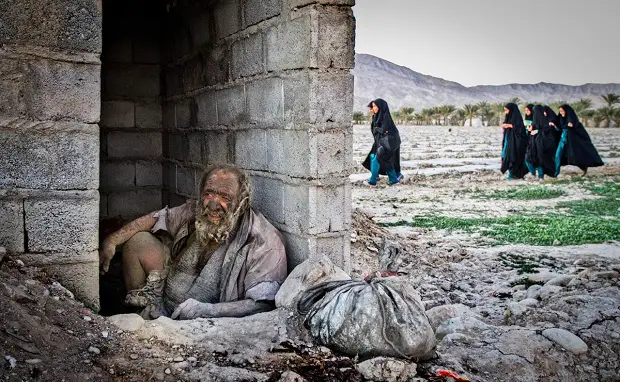 Oh, let me tell you about the one and only Amoo Hadij, a truly one-of-a-kind man living in the outskirts of Farashband, Iran. This guy has earned the title of the "dirtiest human alive," and you won't believe the story behind it!
Picture this: Amoo Hadij is an 80-year-old man who has not taken a single bath in a staggering 60 years! That's right, six whole decades without a dip in the water. It's like he's on a lifelong quest to preserve his unique status as the king of all things dirty.
But here's the kicker: Amoo Hadij doesn't have an ounce of regret about his lifestyle. He embraces himself just the way he is, dirt and all. It's like he's found the ultimate secret to being comfortable in his own skin, no matter how unconventional it may seem to the rest of the world.
I mean, think about it—how many people can claim they've gone through life without a single bath? Not many, I can tell you that! Amoo Hadij is living proof that sometimes, marching to the beat of your own drum is what truly makes you happy.
World's Most Pierced Man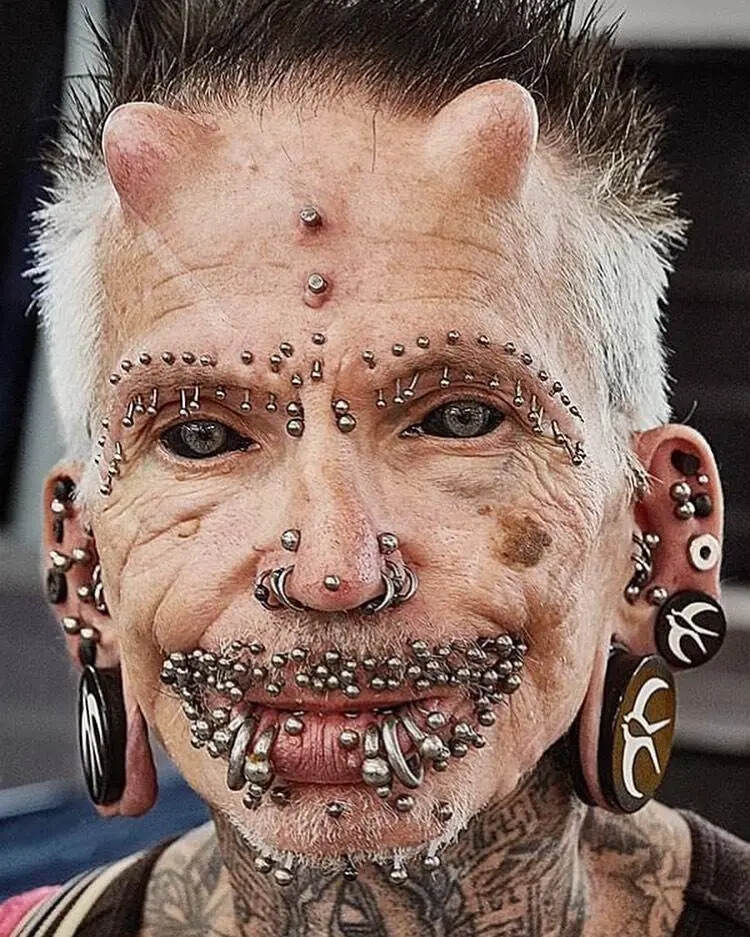 Meet Rolf Buchholz, the guy who literally wears his uniqueness on his sleeve, or should I say all over his body? This Guinness World Record holder boasts a whopping 453 metal piercings scattered across his body!
But wait, there's more – his body modifications are nothing short of extreme, making you wonder if he's part human, part artwork. And if that's not eye-catching enough, he's taken the term "eye-catching" quite literally, with tattooed eyeballs! Oh, and did I mention the horn implants on his head? This guy's body is like a canvas, and he's painted it with a one-of-a-kind masterpiece.
You May Like!