20 Helpful Products for Dog Owners that will Make Their Pup's Life Easier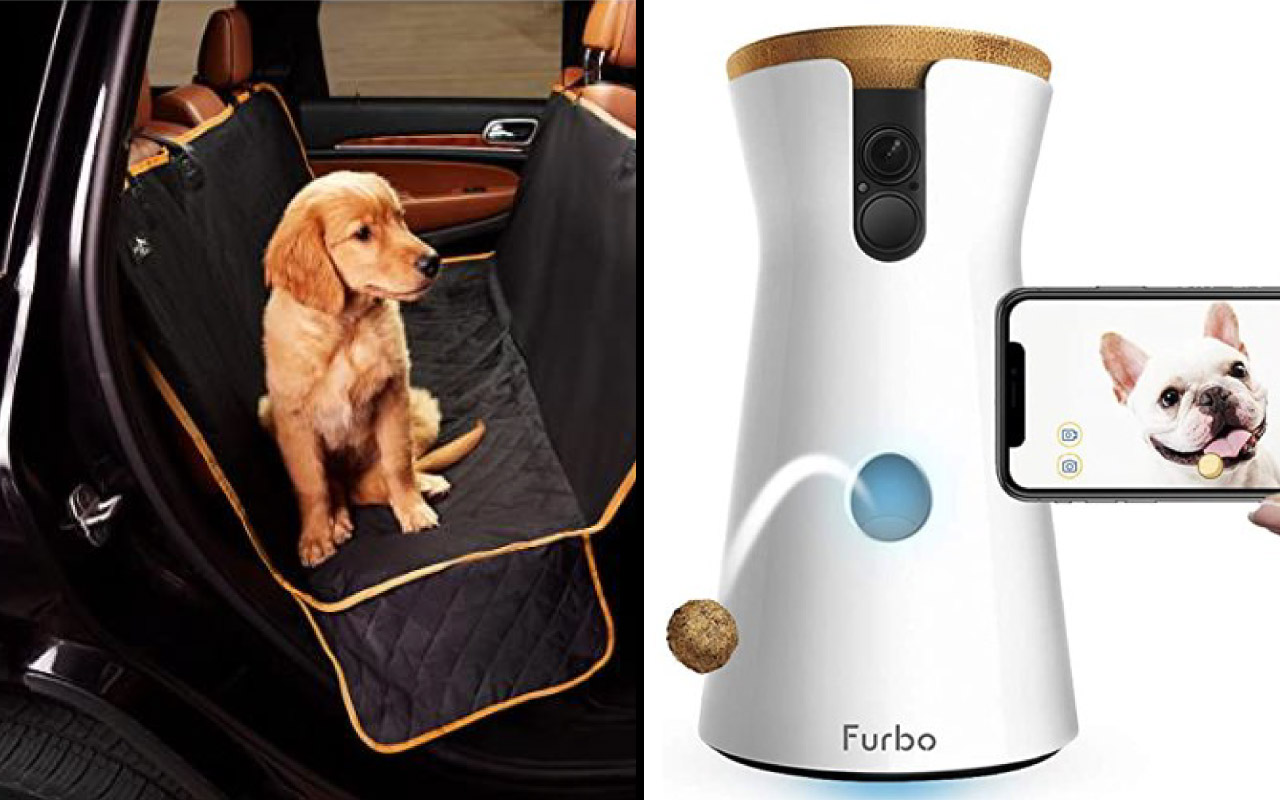 We all want what's best for our furry friends, and fortunately, we live in a time when there are a lot of wonderful items on the market that make it a breeze for those of us who are passionate about dogs to find solutions to the challenges we experience when dealing with dogs.
FYI, this article is free of advertisements and contains affiliate links. This means we may receive a share of the sales they generate. All prices are accurate at the time of publication. We hope you love these picks as much as we do!
01. A step-in harness that is available in seven different sizes to guarantee that your dog has a safe and pleasant experience when going on walks with you. Oh, and it has more than 61,000 ratings of five stars, so we are certain that people in general will like using it.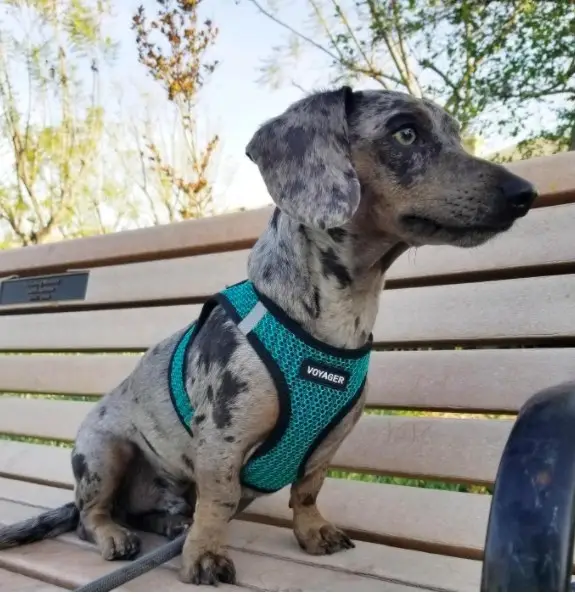 Promising review: "I get lots of compliments for how cute my dachshunds look and the fit is perfect. Not a single rash or chaffing on either of my pups, even after miles-long hikes. My little girl pup has sensitive skin with some dilute alopecia in her armpits (hairless patches), and she has never shown any signs of irritation from this harness. It fits loosely enough to wear over a sweater in the winter while still being breathable in the summer, but still snug and secure — no wiggle room to escape." – MotherOfDachshunds
Get it from Amazon for $14.42.
02. A reusable pet hair remover that works well for removing pet hair from a wide variety of surfaces, including clothing, furniture, blankets, and more. It is kind to the environment, doesn't take much effort to clean, and is ideal for any pet parent who is always short of sticky rollers.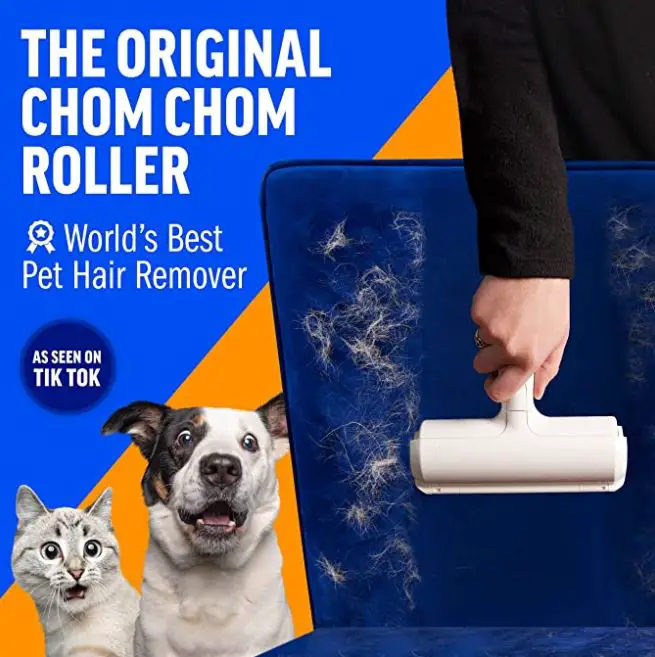 Promising review: "Where has this been all my crazy cat-loving life? Sticky rollers work fine for clothes but this is the only product that has ever COMPLETELY removed all the cat hair from my bed. I have a long-haired 20-lb. tabby and if you run your hands up his back a few times and fling the hair everywhere, it looks like it's snowing – he never stops shedding no matter what I do. After using the ChomChom, I can put on a black dress and roll around on my bed and not get a single hair on me." – Stephanie
Get it from Amazon for $27.95.
03. A set of waterproof dog booties to protects the paws of your dog from harsh environments, such as scorching pavement or sharp thorns, which may otherwise cause injury. Your dog will feel secure enough to run about freely while wearing them, and you will be able to rest knowing that he or she is safe.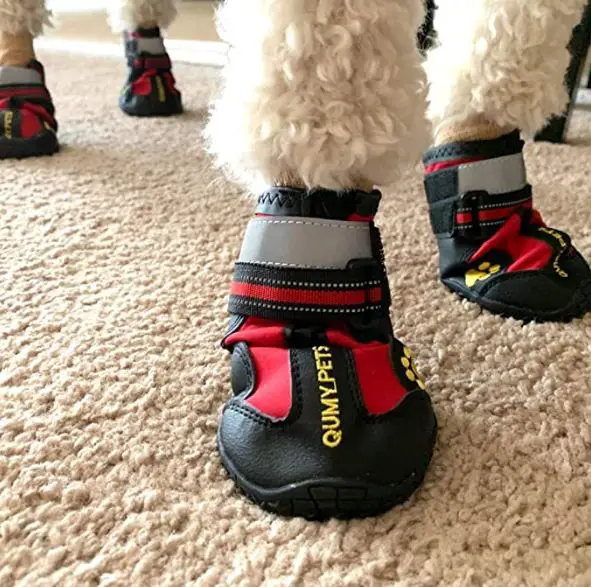 Promising review: "Awesome booties. These babies stay on. She runs, jumps and does everything she normally does except, she can't scratch if needed. (Just gonna have to wait, that's all.) Bought a size 6 for my 50-lb. girl Pitty. She's small but solid. Live in NW 'burbs of Chicago. We walk a couple of miles a day. Our neighborhood has no sidewalks. When it sleets or snows, road salt is an issue. As most dogs do, she likes to off-road it, so it's in the snow, on the street, repeat. These keep her paws from getting packed up with snow and salt" – earshplitten
Get it from Amazon for $28.99.
04. A pet grooming glove equipped with 255 silicone grooming points that, when you move the glove over your dog's body to pick up stray hair, function in a manner similar to a massage for your dog. Your pet dog will really like how fantastic it feels, which will in turn make grooming time far more fun for both of you.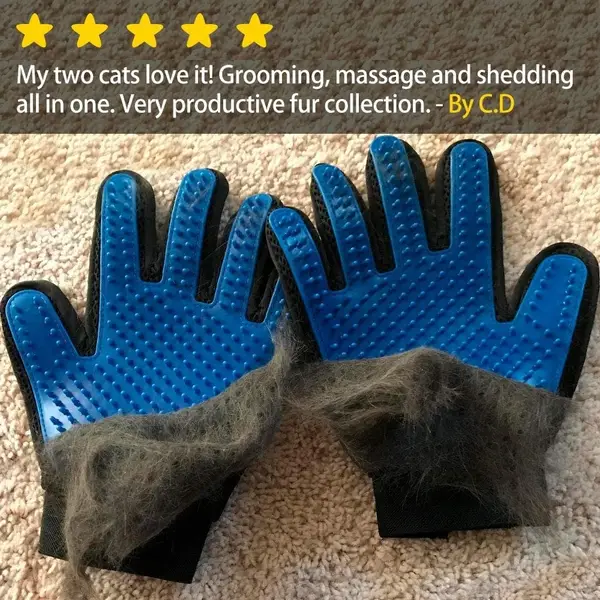 Promising review: "I have a 4-month-old husky pup (Sasha) who just started shedding. These grooming gloves are the perfect solution! My puppy would sit and let you scratch her all day if you had the time! I can sit and wipe her down and 'scratch/pet' her with the gloves on and she can't get enough of it! It is a win-win scenario. The gloves are super easy to clean too. I initially made the mistake of trying to pull all of the hair off, which doesn't work well since it is obviously meant to hold on to the hair. Instead, rub the gloves together like you are trying to warm your hands and the hair will quickly ball up and fall off into the trashcan!" —IT Guy
Get it from Amazon for $12.74.
05. A paw cleaner is a product that can be used on dogs who do not want to remain still for long enough for their dirty paws to be cleaned with a towel. Simply add water to this device, submerge your pet's paw, and the soft silicone bristles will remove caked-on filth and muck in a matter of seconds.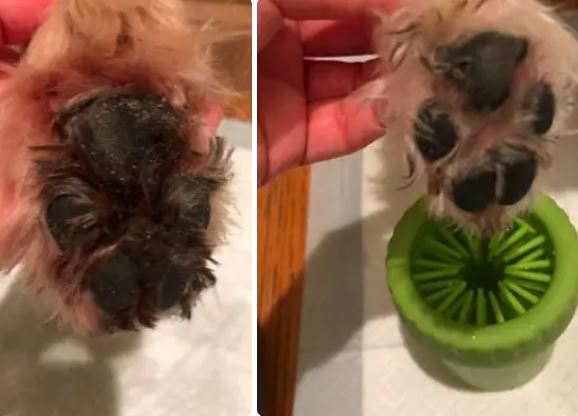 Promising review: "I have four dogs in NYC. I have to wash their feet after every walk because the streets are so filthy. It would take me about 10 to 15 minutes to clean their paws with a spray bottle and towel. Now, it takes about five minutes. And the towel doesn't end up filthy. The dirt gets caught in the cup. Plus the dogs seem to like it. The silicone bristles must feel good. A huge thumbs-up!" —Sandra
Get it from Amazon for $19.64.
06. The Furbo Dog Camera enables you to monitor your dog even when you cannot be with them, such as when you are at work. The Furbo is equipped with a full-HD camera and two-way audio, allowing you to see, hear, and communicate with your dog. It also allows you to toss treats to your dog, allowing you to enjoy a remote game of catch with your closest buddy in between boring work emails.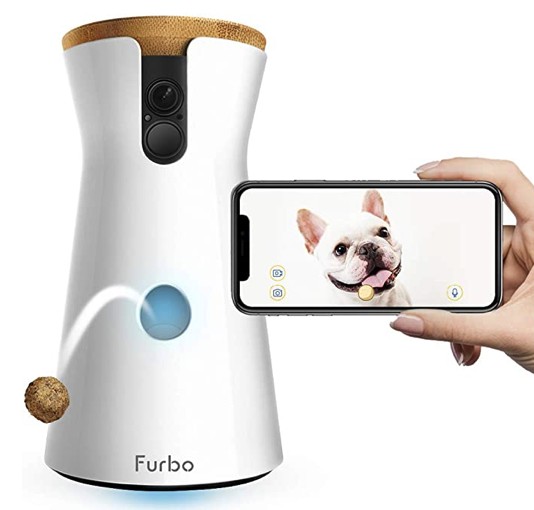 Promising review: "Got this for my lady friend who frets about leaving her little dog alone at home. She loves being alerted every time the little dude barks at passing delivery trucks and snow plows. She refuses to talk to little dude via the speaker because she doesn't want to "freak him out" but she does watch him wander around the living room from her iPhone. Setup is a breeze and there has been zero issues with this gadget." – Theresa
Get it from Amazon for $169.00.
07. A durable chew toy that your dog will enjoy chewing on. They are unaware that the ridges and bumps on the toy remove plaque and tartar and maintain healthy teeth.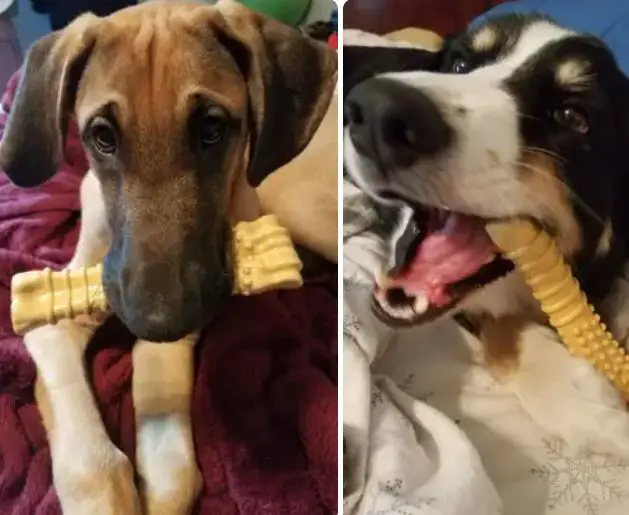 Promising review: "This is one of my dog's favorite toys. He will just sit with it and chew on it, or even run around with it in his mouth. It holds up nicely. My dog is a pretty normal chewer however, but the bone is so sturdy I'm sure it would last for a heavy chewer for some good time. Given the dog doesn't break off pieces of it of course." —Madi
Get it from Amazon for $11.97.
08. This electric, rechargeable pet nail trimmer makes clipping your pet's nails less intimidating for you and your pet. It is common to accidently cut the quick, which is both painful and frightening, and hence a typical source of discomfort for many puppies. In contrast to other trimmers, it minimizes noise providing a more comfortable experience for your dog.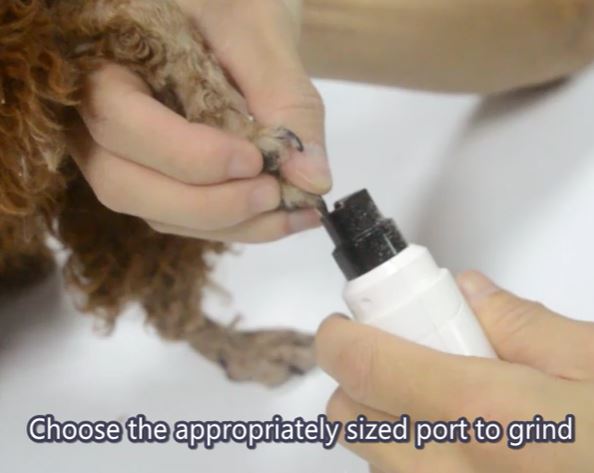 Promising review: "I don't normally write reviews, but I felt this one warranted one! I have a 6 year old mini dachshund and trimming nails has always been rough!! Screaming and biting (from the dog). I've tried other nail grinders and she was terrified of them. I came across this one and thought I'd give it a try. It took only 5 minutes to do ALL FOUR paws! She held perfectly still and didn't fight me a single bit!! She even wagged her tail when we were done!! Hallelujah I think we found the tool for us!!!" – Carrie
Get it from Amazon for $29.99.
09. The slow feeder dog bowl is designed to prevent your dog from finishing their food in less than a minute and resulting in an upset stomach. This dish will also aid in preventing the bloating and vomiting that many fast eaters experience.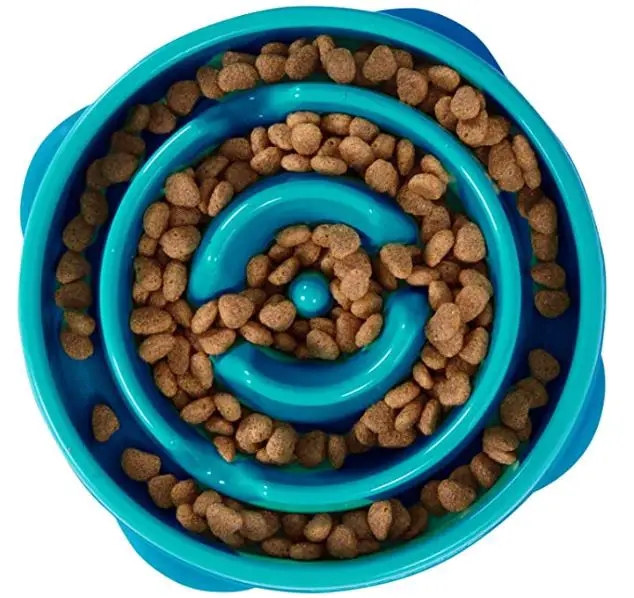 Promising review: "These dog bowls are amazing! I got three different shapes so I could switch them out to keep eating a challenge which is good mental stimulation for dogs. This completely solved the eating too fast problem. Both dogs adapted easily to using them. These were well worth the money. These bowls do make them drool more when eating but I just throw them in the dishwasher regularly and that takes care of the cleaning." —Rachel
Get it from Amazon for $16.49.
10. An automated dog feeder that allows you to programme the time and amount of food that it delivers. Once your dog is used to the routine, you may find them waiting by the dispenser for the oh-so-satisfying release of kibble!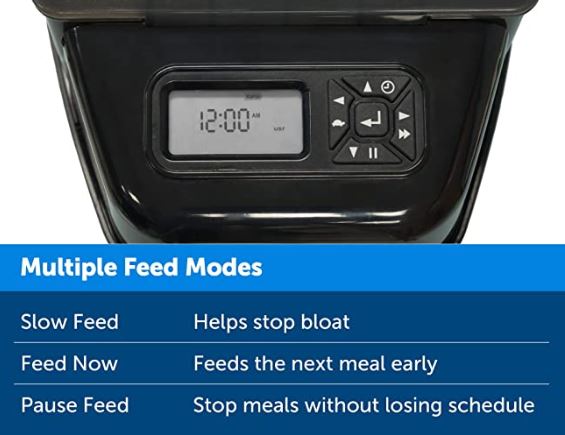 Promising review: "This is a wonderful automated dry food feeder. We are extremely happy with how this unit has been working. Programming the unit is easy, but not intuitive. The instructions are very well written and it clearly covers everything required to set up and program feeding schedules. The unit is easily disassembled for cleaning. The entire conveyor can be removed and cleaned. Our dog has an issue with an empty stomach and requires being fed several times during the night. Programming it to do so was simple and it works great. When the food is dispensed, it makes some noise due to the stainless steel bowl. The dog loves the sound of food being dispensed, but we've swapped to a quieter bowl so we are not woken when food is dispensed. Using an AC adapter with batteries is a good idea to avoid having to reprogram the time if power is disrupted. After a power loss, time will need to be set, but the feeding schedules are retained in memory." —trailrider
Get it from Amazon for $89.95.
11. A shaggy donut-shaped dog bed intended to calm nervous dogs. As they burrow into the bed, your furry pet will immediately feel protected and supported.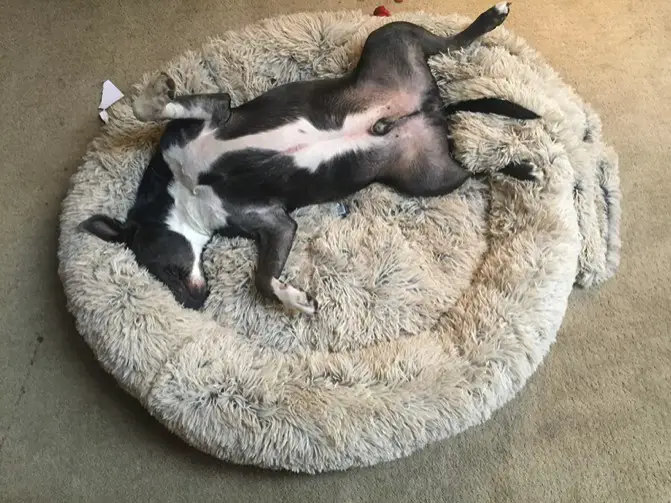 Promising review: "Our 11-pound Chihuahua, Lucy, absolutely loves this bed! It took her a few minutes to get used to this new thing in her life, after we first introduced her to it, and now she practically lives in it! We bought the small size. It's incredibly soft and well-padded on the sides and the bottom. The interior edges are deep enough that she can burrow into them. She'll often put her leg(s) or head into that area. It's as comfortable when placed on our hardwood floors as when it's on the sofa. If they came in human size, I'd be tempted to order one for myself!" —katydid26
Get it from Amazon for $31.78.
12. A car seat cover that prevents your dog from slipping forward in the space between the back and front seats, making your dog's vehicle journey much more comfortable (and safe). It's also waterproof and scratch-proof, so it'll keep the dog's messes off the vehicle seats.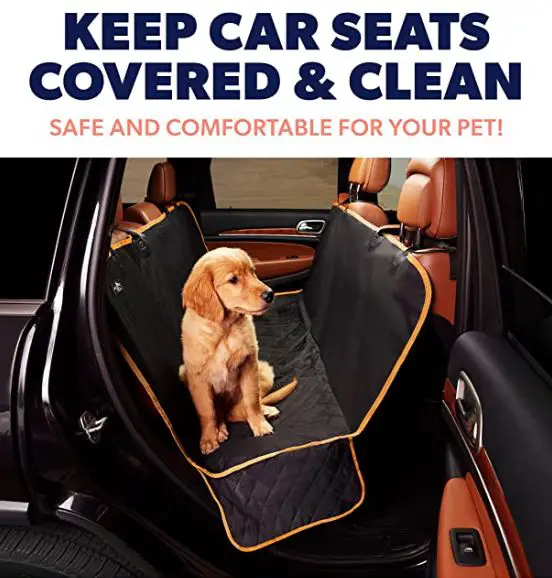 Promising review: "Extremely happy with this purchase. I received it because we hate all the dog hair in the car but LOVE our Bella (our dog) so much! It's got a side flap so even the side of my back seat won't get any hair or dirt on it. She loves to go for rides with me even in the morning to get my Dunkin' Donuts! So easy to install and kept her safe in the back seat. I have yet to clean it as we just got it, but it looks and feels very durable." —Peter Pacilio
Get it from Amazon for $34.99.
13. A behavioral aid toy with a heat pack and an internal "heartbeat" that relaxes pups and aids in their adjustment to their new home.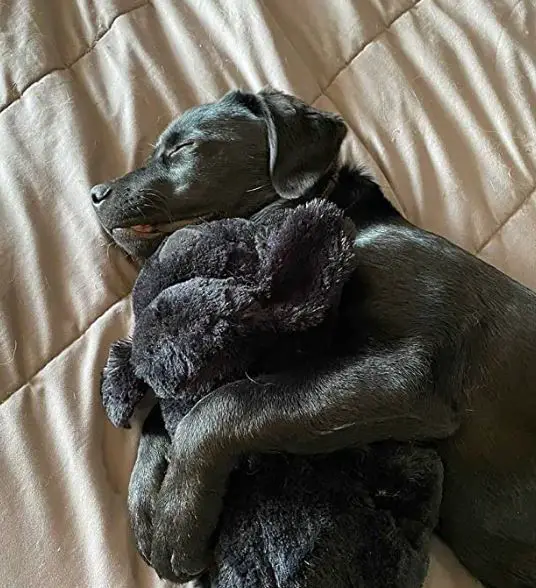 Promising review: "I am convinced that this adorable toy helped my puppy sleep through the night from her very first night home! Additionally, it makes her crate feel like a home, where she feels so cozy and it has really helped her love her crate and look forward to sleeping in it. AND, it's her favorite toy! When she's awake and alert, she loves pulling out her little snuggle puppy and carrying it around the house. This little snuggle puppy has made my transition — and that of my puppy — so wonderful in ways I did not even expect!! Highly recommend this as one of the best things you can do for your puppy." —Smart Researcher
Get it from Amazon for $39.95.
14. An airline-approved travel bag for transporting your dog safely, whether you're going on vacation or simply to the vet. It's lined with a sherpa fabric that will keep your dog secure and comfy for the duration of your trip.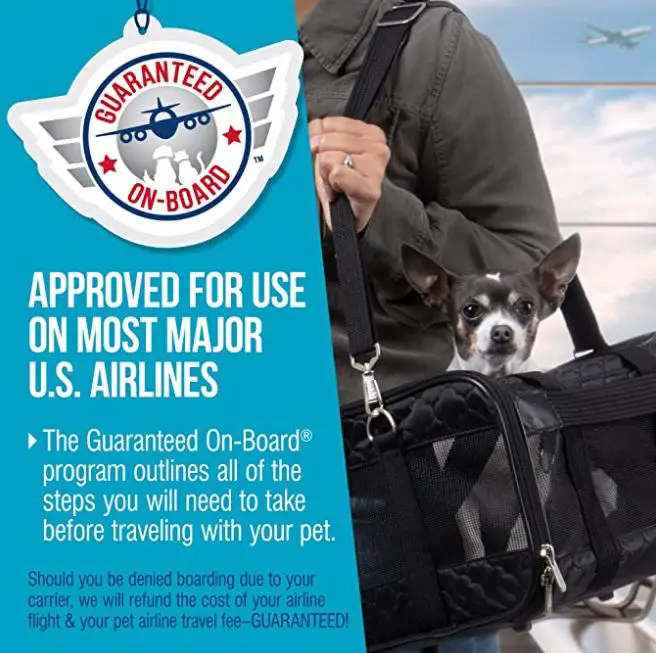 Promising review: "After extensive research on flying dogs in a carrier, I found the perfect carrier. I was nervous that this would be too big to take my dog on as a carry on. I flew from Kansas City, Missouri to New York, New York (a three-hour flight) with my corgi who had never flown before. The bag made it through security just fine (Southwest Airlines). When testing different dog carriers at the pet store, my little guy would cry every time we put him in one. He actually did well on this flight and didn't whine too much. Had to train him beforehand of course. We knew he would be using this carrier for more than just flights since we moved to NYC. He does well with it now and rides on the train in it all the time. The carrier is sturdy and built with quality. Highly recommend it." —Emily Ngo
Get it from Amazon for $39.99.
15. A foldable pool that's just the right size for your four-legged pal to cool down in. Warning: your dog will love this so much that they might never want to come back from it!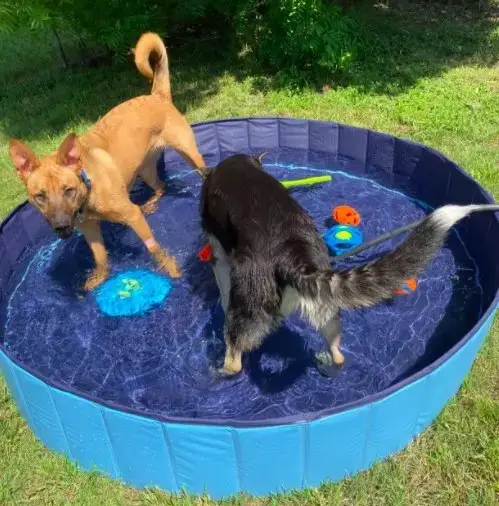 Promising review: "I really liked the thickness and quality of this pool. My dog was already scratching at the sides and this thing is TOUGH!!! Love the drain plug as you can connect a hose to it. I bought the XXL for my husky!! She dunks her head under water all day! Great product!" —K
Get it from Amazon for $46.49.
16. You can use the PetCube to ensure that your dog is secure even when you are not present. It has HD video and superb night vision so you can keep an eye on your dog at all times. It also provides you sound and motion alerts, allows you to hear and speak to your dog, and has a built-in live vet-chat so you may consult a professional vet 24/7.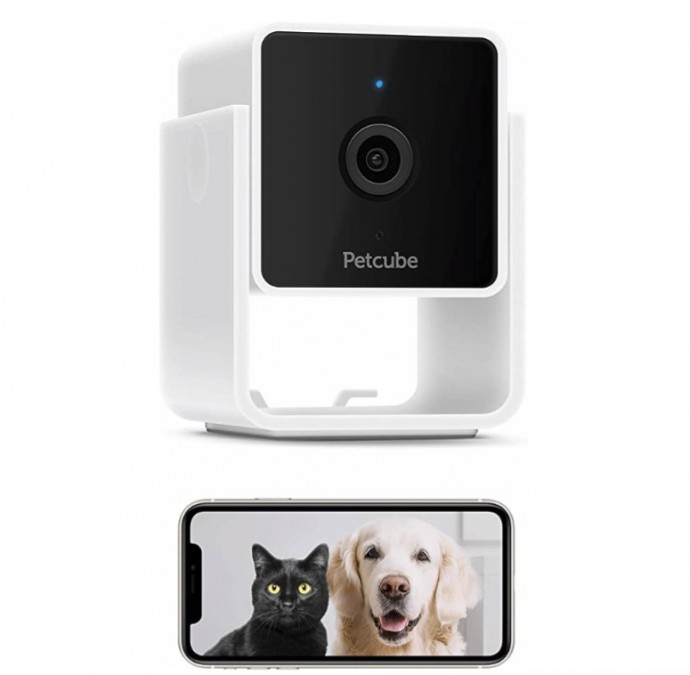 Promising review: "I'm pretty happy with this given the price. It's a fraction of the prices of the other Petcubes (Play and Bites), but of course it offers a bit less (no dispensing of treats, no laser for cats). But that just means I can get a couple more of this Petcube cam to place in strategic locations to better spy on my dog so I can finally get a full story of what she's up to in our house " – Candy
Get it from Amazon for $39.99.
17. This no-pull dog harness is ideal for your furry friend who can't quit pulling on the leash. The no-choke harness provides you more control over your dog by turning them around every time they try to tug. After a while, your dog will stop pulling and your morning walks will become much more enjoyable for both of you.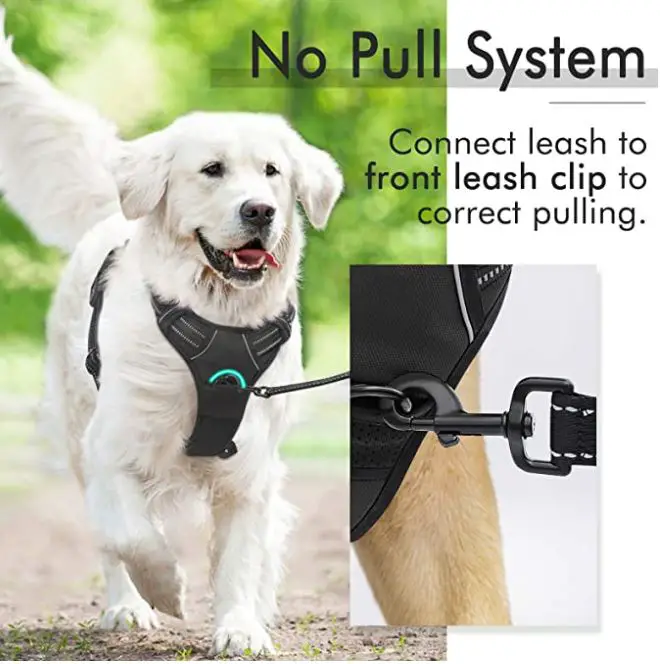 Promising review: "We bought this harness for our two Boston Terriers. They were driving us crazy with all of the pulling and we are older and worried about t getting hurt. We had harnesses but they were not helping anything. We decided to try Rabbitgoo and it has made a huge difference! They barely pull anymore and we have so much more control. The Rabbitgoo harnesses have totally changed how our dogs walk. We are not worried about falling anymore because there is no more struggling to control the dogs. We saw a change immediately." – Melinda
Get it from Amazon for $20.98.
18. If our dogs could choose, we'd probably be playing fetch all the time. Unfortunately, we have other responsibilities that prevent us from fulfilling that ambition, but with this automated ball launcher, our pups won't be bored simply because we're busy. The ball launcher allows your pups to play fetch as often as they like and is ideal for adding some additional activity to their day.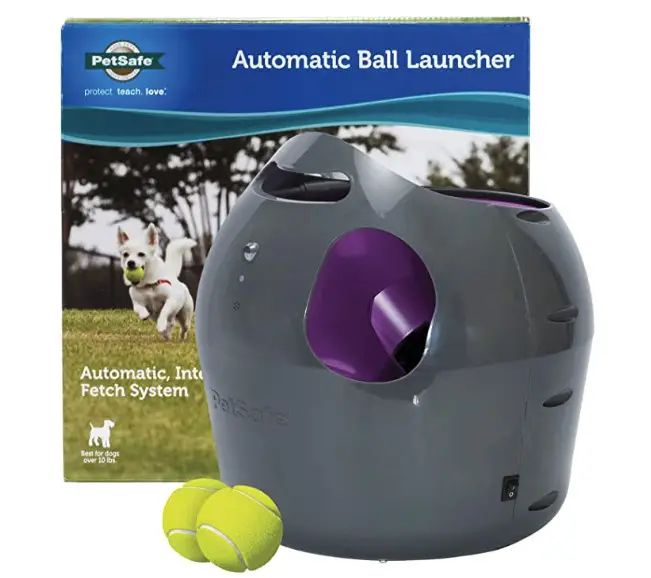 Promising review: "My dog absolutely loves this thing!!! There was a little learning curve at first (expected) but now that she got the hang of it, she uses it everyday. It's so funny watching her anticipation as she waits for the ball to launch. I also love knowing that she is safe when using it, due to the sensor on the front which makes sure she is a safe distance away from the launcher." – Sandra
Get it from Amazon for $169.95.
19. These charming dog boots are ideal for keeping your pet safe and comfortable, whether you're simply going down the street or taking your pal on a wild excursion. They protect your pup's paws from uneven terrain, and their anti-slip features improve stability and movement.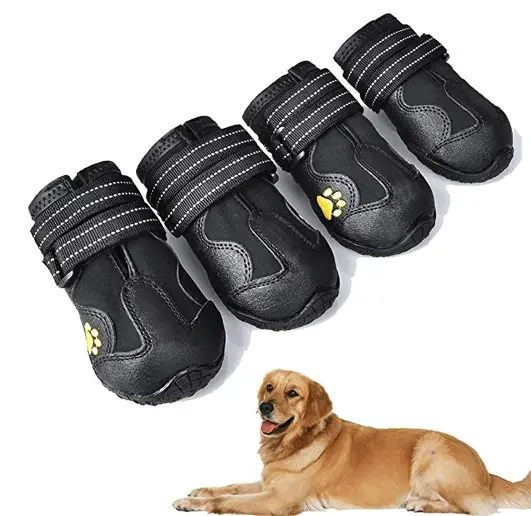 Promising review: "Absolutely perfect!! I got a size 2 for my maltese, they fit just perfect! They feel like great quality, super easy to get on and off of my little guy, the soles are actual rubber and have tread to keep him from slipping. He didn't even fight me when putting the on him, he hasn't tried to take them off…" – Joanna
Get it from Amazon for $26.99.
20. We all know that life with a puppy can be messy, but we don't often realize how messy it can be. Even if you believe you've cleaned up any spills, there are often unseen residues throughout your house. You can finally see these stains and scrub them out once and for all with this UV Flashlight.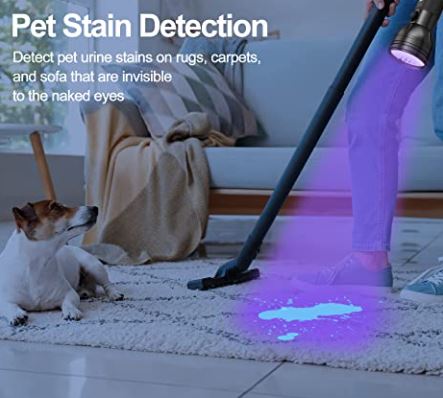 Promising review: "This light is fantastic but it shows EVERYTHING. I thought my house was clean. Turn off the lights at night, shine thus light and be prepared to be shocked. Tomorrow, I have a date with a bucket of ammonia and water." – Jean B.
Get it from Amazon for $12.99.