20 Helpful Products for Dog Owners that will Make Their Pup's Life Easier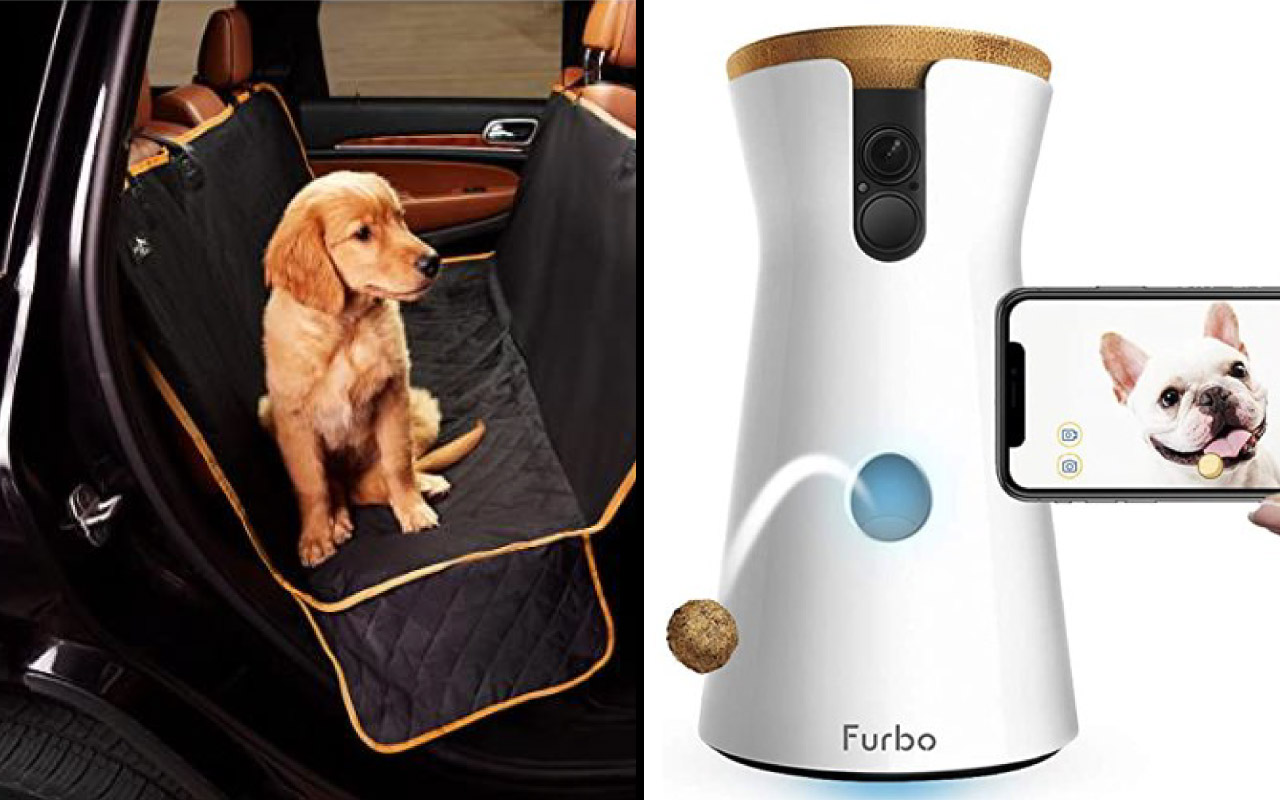 We all want what's best for our furry friends, and fortunately, we live in a time when there are a lot of wonderful items on the market that make it a breeze for those of us who are passionate about dogs to find solutions to the challenges we experience when dealing with dogs.
FYI, this article is free of advertisements and contains affiliate links. This means we may receive a share of the sales they generate. All prices are accurate at the time of publication. We hope you love these picks as much as we do!
01. A step-in harness that is available in seven different sizes to guarantee that your dog has a safe and pleasant experience when going on walks with you. Oh, and it has more than 61,000 ratings of five stars, so we are certain that people in general will like using it.
02. A reusable pet hair remover that works well for removing pet hair from a wide variety of surfaces, including clothing, furniture, blankets, and more. It is kind to the environment, doesn't take much effort to clean, and is ideal for any pet parent who is always short of sticky rollers.
03. A set of waterproof dog booties to protects the paws of your dog from harsh environments, such as scorching pavement or sharp thorns, which may otherwise cause injury. Your dog will feel secure enough to run about freely while wearing them, and you will be able to rest knowing that he or she is safe.
04. A pet grooming glove equipped with 255 silicone grooming points that, when you move the glove over your dog's body to pick up stray hair, function in a manner similar to a massage for your dog. Your pet dog will really like how fantastic it feels, which will in turn make grooming time far more fun for both of you.
05. A paw cleaner is a product that can be used on dogs who do not want to remain still for long enough for their dirty paws to be cleaned with a towel. Simply add water to this device, submerge your pet's paw, and the soft silicone bristles will remove caked-on filth and muck in a matter of seconds.
06. The Furbo Dog Camera enables you to monitor your dog even when you cannot be with them, such as when you are at work. The Furbo is equipped with a full-HD camera and two-way audio, allowing you to see, hear, and communicate with your dog. It also allows you to toss treats to your dog, allowing you to enjoy a remote game of catch with your closest buddy in between boring work emails.
07. A durable chew toy that your dog will enjoy chewing on. They are unaware that the ridges and bumps on the toy remove plaque and tartar and maintain healthy teeth.
08. This electric, rechargeable pet nail trimmer makes clipping your pet's nails less intimidating for you and your pet. It is common to accidently cut the quick, which is both painful and frightening, and hence a typical source of discomfort for many puppies. In contrast to other trimmers, it minimizes noise providing a more comfortable experience for your dog.
09. The slow feeder dog bowl is designed to prevent your dog from finishing their food in less than a minute and resulting in an upset stomach. This dish will also aid in preventing the bloating and vomiting that many fast eaters experience.
10. An automated dog feeder that allows you to programme the time and amount of food that it delivers. Once your dog is used to the routine, you may find them waiting by the dispenser for the oh-so-satisfying release of kibble!
11. A shaggy donut-shaped dog bed intended to calm nervous dogs. As they burrow into the bed, your furry pet will immediately feel protected and supported.
12. A car seat cover that prevents your dog from slipping forward in the space between the back and front seats, making your dog's vehicle journey much more comfortable (and safe). It's also waterproof and scratch-proof, so it'll keep the dog's messes off the vehicle seats.
13. A behavioral aid toy with a heat pack and an internal "heartbeat" that relaxes pups and aids in their adjustment to their new home.
14. An airline-approved travel bag for transporting your dog safely, whether you're going on vacation or simply to the vet. It's lined with a sherpa fabric that will keep your dog secure and comfy for the duration of your trip.
15. A foldable pool that's just the right size for your four-legged pal to cool down in. Warning: your dog will love this so much that they might never want to come back from it!
16. You can use the PetCube to ensure that your dog is secure even when you are not present. It has HD video and superb night vision so you can keep an eye on your dog at all times. It also provides you sound and motion alerts, allows you to hear and speak to your dog, and has a built-in live vet-chat so you may consult a professional vet 24/7.
17. This no-pull dog harness is ideal for your furry friend who can't quit pulling on the leash. The no-choke harness provides you more control over your dog by turning them around every time they try to tug. After a while, your dog will stop pulling and your morning walks will become much more enjoyable for both of you.
18. If our dogs could choose, we'd probably be playing fetch all the time. Unfortunately, we have other responsibilities that prevent us from fulfilling that ambition, but with this automated ball launcher, our pups won't be bored simply because we're busy. The ball launcher allows your pups to play fetch as often as they like and is ideal for adding some additional activity to their day.
19. These charming dog boots are ideal for keeping your pet safe and comfortable, whether you're simply going down the street or taking your pal on a wild excursion. They protect your pup's paws from uneven terrain, and their anti-slip features improve stability and movement.
20. We all know that life with a puppy can be messy, but we don't often realize how messy it can be. Even if you believe you've cleaned up any spills, there are often unseen residues throughout your house. You can finally see these stains and scrub them out once and for all with this UV Flashlight.