Giant Oceanic Manta Rays can Reach a Wingspan of 30 feet and Weigh More than 6,000 pounds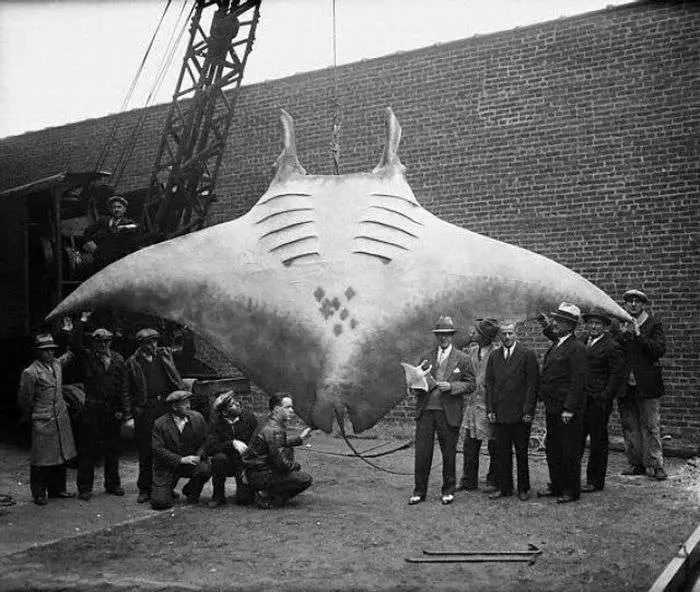 Manta rays having huge, forward-facing mouths, triangular pectoral fins, and horn-shaped cephalic fins. Manta rays have a life span of up to 50 years.
The giant manta ray can be found in tropical, subtropical, and temperate bodies of water all throughout the world, and is particularly prevalent offshore, in oceanic seas.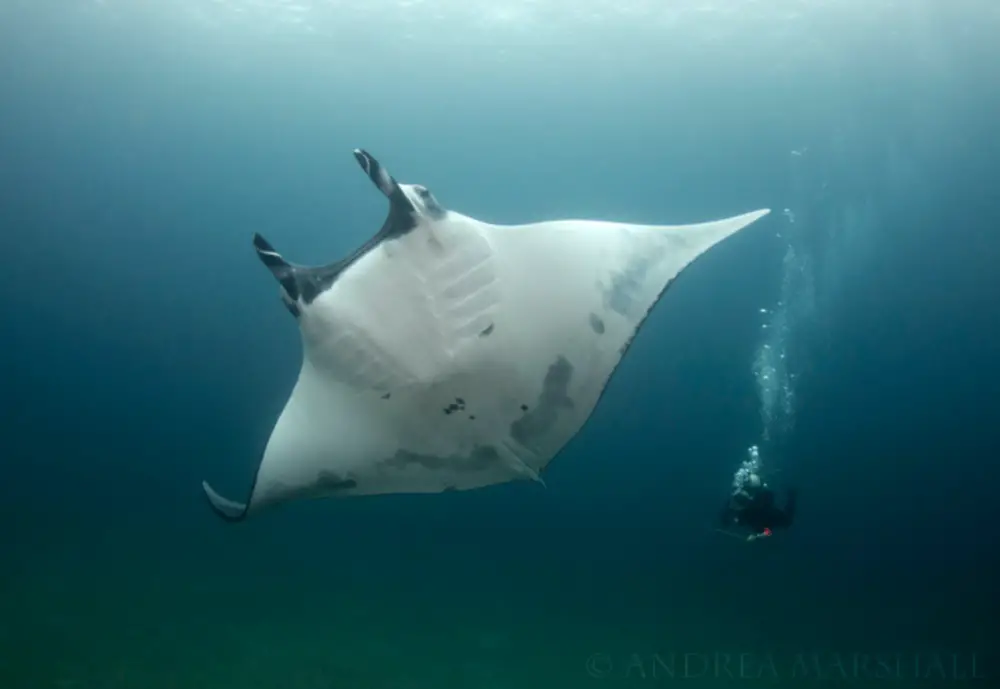 While the smaller reef manta ray has a wingspan of around 11 feet on average, the biggest type of ray, the giant oceanic manta ray, can have a wingspan of up to 30 feet. The longest ever recorded manta ray wingspan is 9.1 meters (30 ft)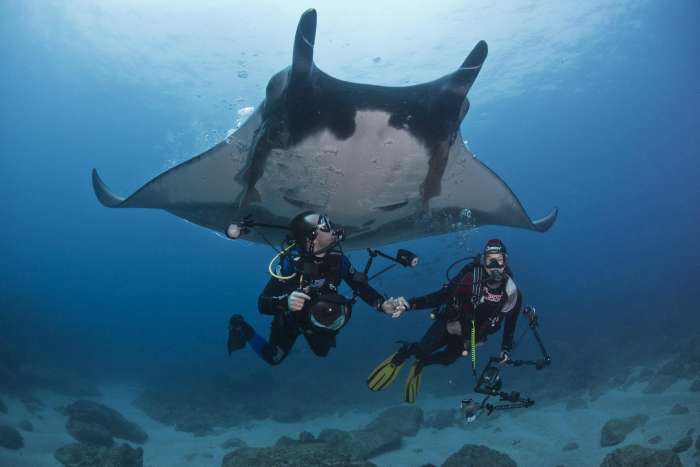 A.L. Kahn, a silk producer from New York, was on vacation in Florida in 1933 when his anchor line unexpectedly entangled a massive manta ray.
Kahn finally managed to bring the gigantic manta ray ashore after several hours of effort, a visit from the coast guard, and a few dozen gunshots. Below is a picture that allegedly depicts the outcome of this famous fishing tale.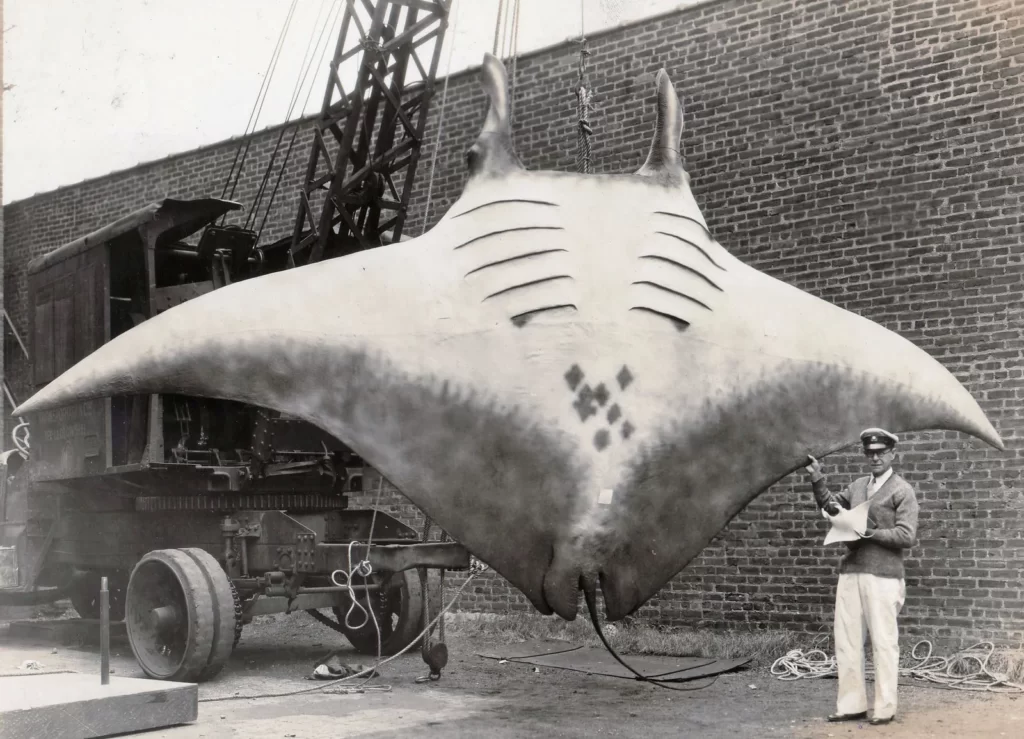 In 1933, off the coast of New Jersey, Captain Kahn really caught a gigantic manta ray. However, this picture depicts a taxidermied manta ray that he captured.
Kahn's fishing story was covered by a number of popular newspapers, including a fascinating piece that appeared in the Sunday Magazine of the St. Louis Post-Dispatch on December 10, 1933.
It's not a big deal when a fish gets caught. But when the fish weights about 6,000 pounds and the hook just so happens to be a boat's anchor, you not only have news—which is extremely uncommon—but also a bizarre fish story that actually happened. And as evidence, there is the fish itself on hand.
The most intelligent fish in the ocean are Manta Rays. Manta rays have the highest brain-to-body-size ratio of any cold-blooded animal, indicating excellent cognitive capability, which is also shown by dolphins, primates, and elephants.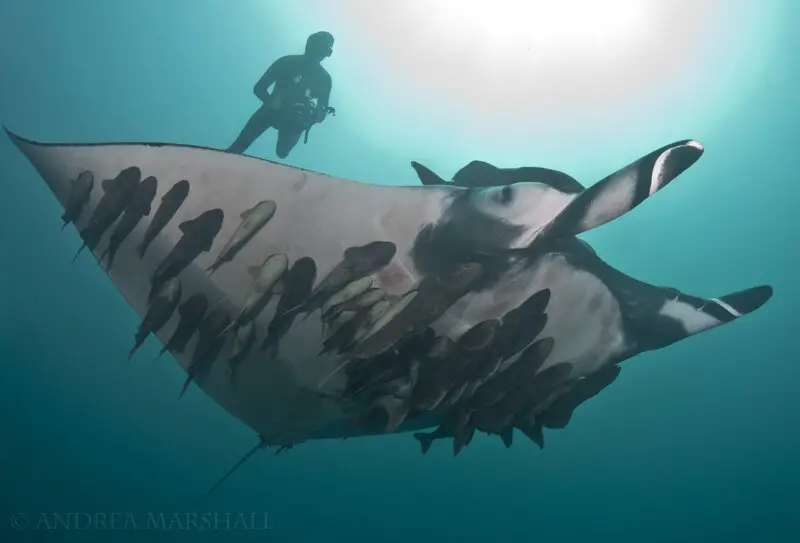 Giant manta rays have been recorded inspecting their reflections in a way that implies they are aware of themselves. The mirror test, which is frequently regarded as a preliminary test of self-awareness, has only been passed by a few species, mostly by primates.
The World's most incredible creatures can be found in the ocean. Alexander Semenov is a marine biologist and photographer specializing in sea life. Here are 30 amazing images of trippy-looking deep-sea creatures that he was able to capture.
Watch! A Giant of the Sea, the Manta Ray
The Top 5 Largest Rays Ever Recorded
Size Comparison of Sea Monsters