A 91-year-old Grandma traveled around the World alone, Sharing her Journey on Facebook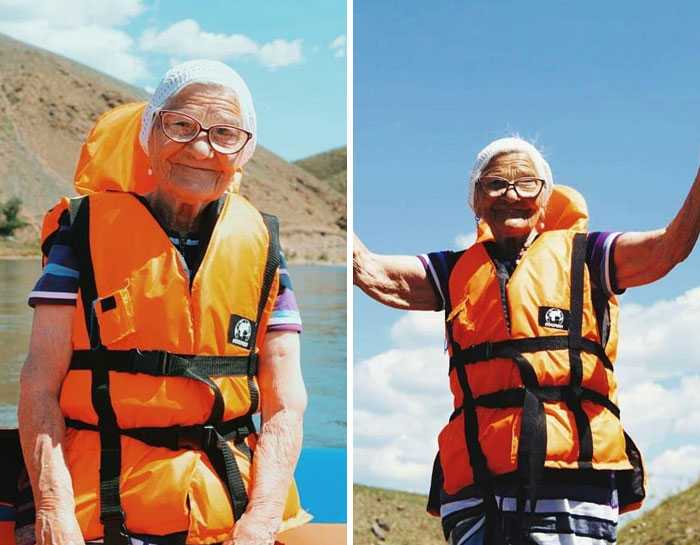 Elena Erkhova, also known as Baba Lena, is a 91-year-old woman from the Siberian city of Krasnoyarsk who traveled to locations you wouldn't expect a 91-year-old to visit and chronicled her adventures on social media.
The tale became so inspirational since she is a 91-year-old Russian woman who had been traveling despite her old age. And not just within Russia's borders, but also outside, whether in an exotic area or not.
Unfortunately, Baba Lena died in 2019 at the ripe old age of 91, but she left a legacy of her trips on Facebook.
#1

In The Mount Elbrus Area, Russia
#2
#3

 Travelling To Tuva Republic
#4

 Phi Phi Harbor View Hotel In The Phi Phi Islands, Thailand
#5
#6
#7
#8

Saint Basil's Cathedral, Moscow, Russia
#9

 Visiting Asia
#10

In The Tuva Republic
#11

Parus Sanatorium, Novosibirsk, Russia
#12

Hagia Sophia, Istanbul
#13

Monkey Beach, Tonsai Bay, Thailand
#14
#15

Beach Carnival Night In Thailand
#16

Belokurikha, Altai, Russia
#17

The Moscow Skyscrapers
#18

Thailand
#19

The Geographical Center Of Asia
#20
 #21

Germany
#22

Istanbul
#23
#24

At The Riu Garoe Hotel In Tenerife, Spain
#25

Rome, Italy

#26

Rafting In The Yenisey River (Mongolia/ Russia)
#27

 The Naadym Festival, Tuva Republic, Russia
#28

Joining The Culture Of The Taino Indians
#29

At The Parthenon Of Books, Kassel, Germany
#30

In The Tuva Republic