Lady Gaga's 35 Most "Gaga" Looks: A Fashion Odyssey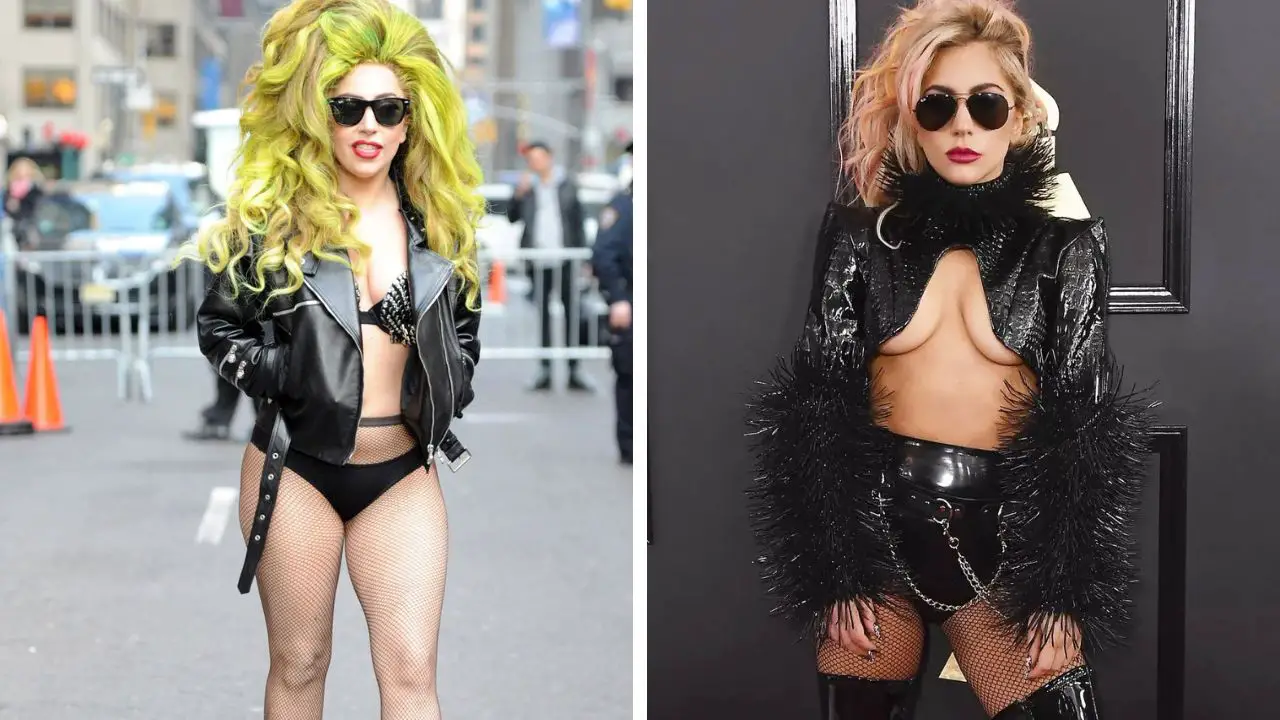 When it comes to turning heads and pushing the boundaries of fashion, Lady Gaga has always been a trailblazer. Unlike most celebrities who slowly transform their style into something more daring, Gaga stepped onto the scene ready to make a statement.
From meat dresses to hair bows, she has kept us guessing and talking about her iconic looks for years. In this fashion odyssey, we'll take a trip down memory lane and revisit some of Gaga's most "gaga" looks.
The Meat Dress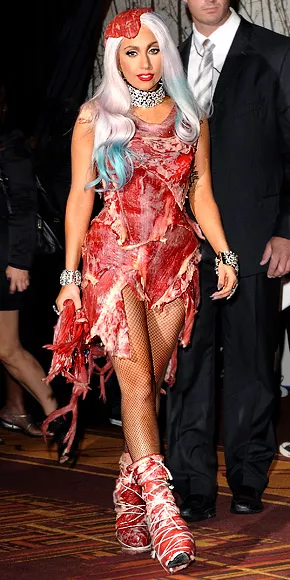 Lady Gaga's meat dress at the VMA's was not just a fashion statement; it was a political message. She boldly proclaimed, "I am not a piece of meat." The dress, constructed on a corset, was surprisingly comfortable despite its weight of around forty pounds.
The Tribute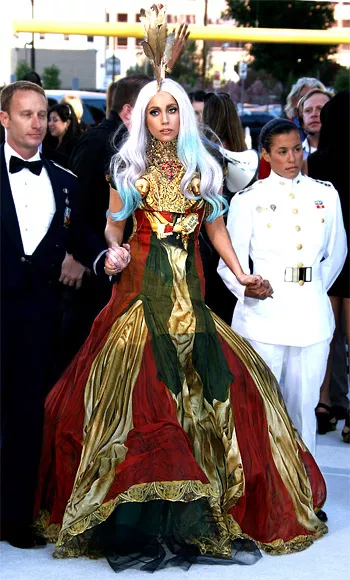 In honor of her late friend, Alexander McQueen, Gaga made a regal entrance at the 2010 VMAs wearing a gown from his namesake line, accessorized with a feathered headpiece from Philip Treacy and uniformed guards.
The VMA Tour de Force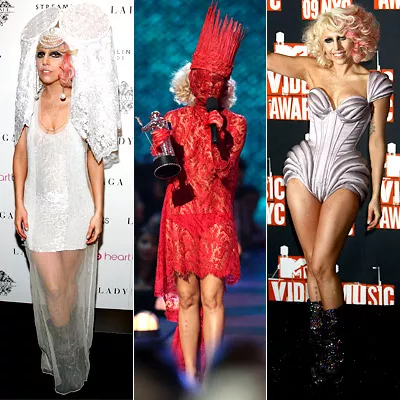 At the 2009 MTV Video Music Awards, Gaga captured the world's attention with six costume changes. Each outfit was a work of art, including an Alex Noble lace headpiece and a vintage Alexander McQueen number.
The Ballgown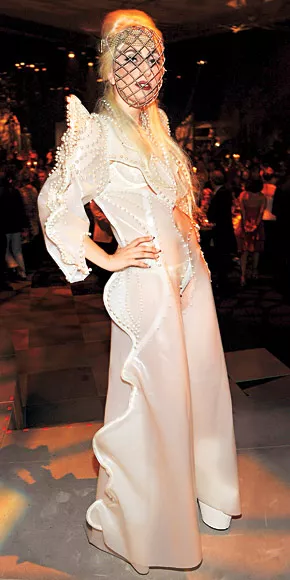 For Elton John's White Tie and Tiara Ball, Gaga chose a pearl-embellished latex gown by Francesco Scognamiglio. She accessorized with Viktor & Rolf platforms and stunning jewelry.
The Kermit Coat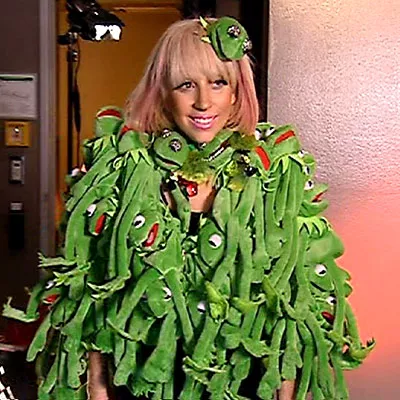 In a tribute to Muppets, Gaga donned a Jean-Charles de Castelbajac creation covered in Muppet characters. She explained, "I dress this way because my whole life is art and performance."
The Armani Collection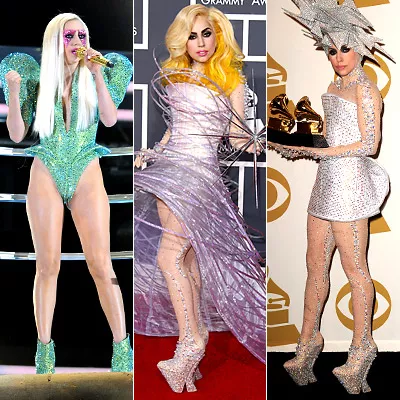 Giorgio Armani designed iconic pieces for Gaga, including a crystal-covered leotard, an iridescent gown, and an ultra-mini dress. These outfits truly represented Gaga's spirit as an artist.
The Veil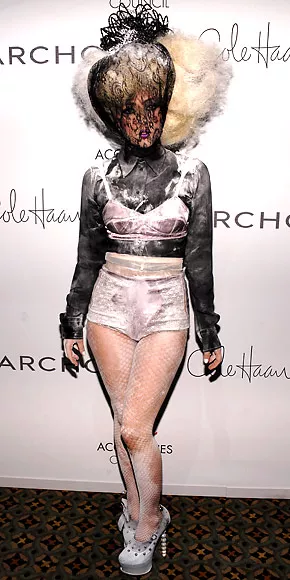 At the 2009 Accessories Council Excellence Awards, Gaga combined the 1940s with the 1740s, wearing a towering Marie Antoinette wig, Erickson Beamon lace headpiece, and a lingerie-inspired Marc Jacobs ensemble.
The Hair Bow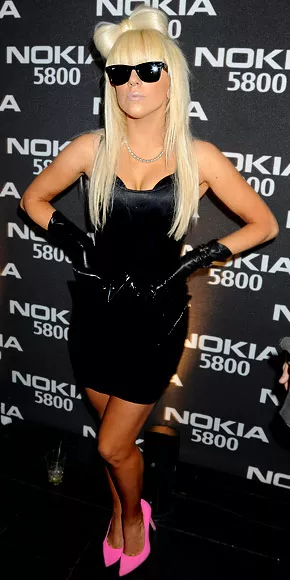 Classic Gaga: a hair bow, a satin dress, and hot-pink heels for the Nokia 5800 launch party. Gaga even revealed she made the hair accessory herself using inexpensive hair extensions.
The Tea Dress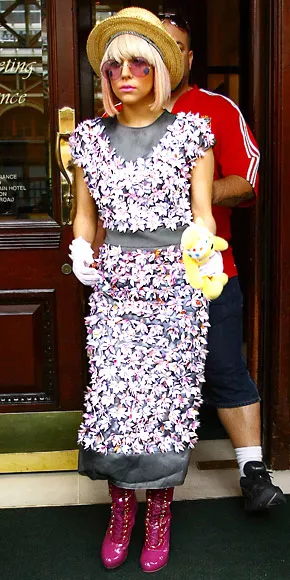 In London, Gaga looked fresh in a Viktor & Rolf sheath adorned with handmade silk flowers, a straw boater, fuchsia granny boots, and even a stuffed animal Pudsey the Bear.
The Bow Redux
For the launch of Vevo, Gaga softened her style while retaining her edge in a flowing lilac Valentino gown and a blush bow wig.
The Hair Hat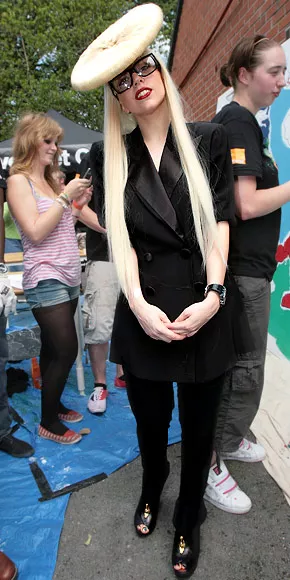 Gaga's face-shielding button hat, designed by Nagi Noda, was a true fashion statement. She paired it with waist-length extensions and a bold-shouldered jacket.
The Orbit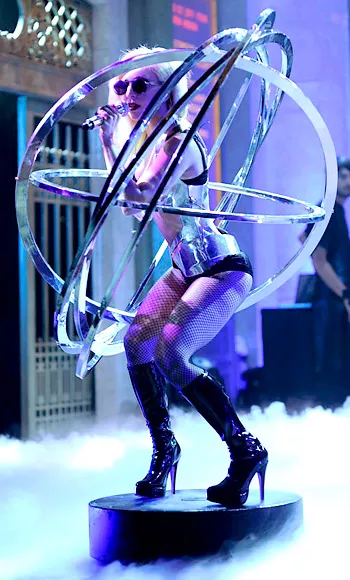 Gaga's collaboration with designer Nasir Mahzar resulted in "The Orbit." This metal creation rotated around her during a 2009 SNL performance, truly a fashion installation.
The Opera Cape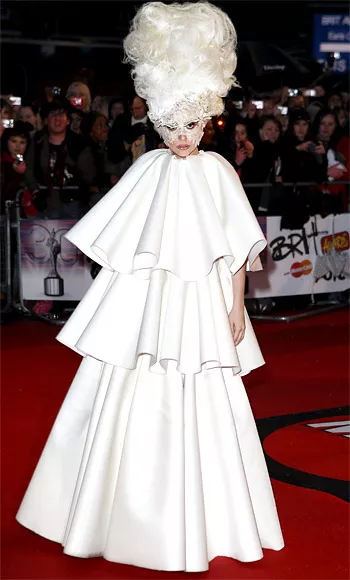 For the 2010 Brit Awards, Gaga chose a tiered neoprene and silk creation from Francesco Scognamiglio, complemented by a lace mask from Philip Treacy and a towering bouffant.
The Origami Originals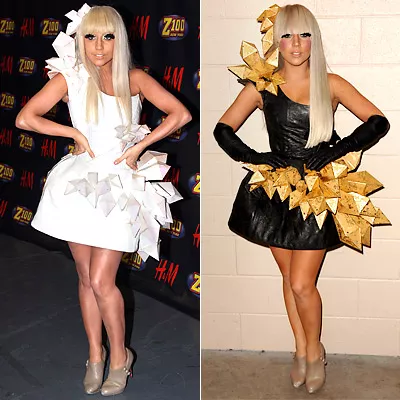 Gaga's House of Gaga dresses paid homage to '80s design legend Thierry Mugler with bristling origami shapes. Her stylist, Nicola Formichetti, later became creative director of Thierry Mugler.
The Hair Dress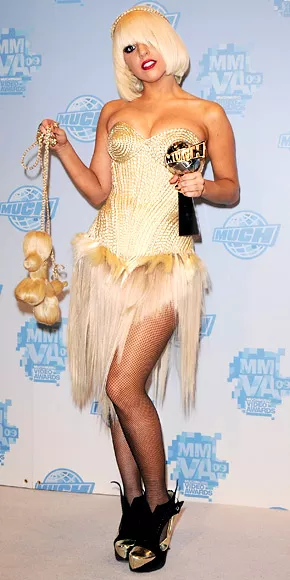 For the 2009 MuchMusic Video Awards, Gaga paired a braided bustier with a shaggy hair skirt and completed the look with a matching poodle bag and cutout boots.
The Antler Hat
Gaga embraced a molded silicone dress from Rachael Barrett, complete with an antler-like hat, leaving us in awe.
The Prickly Wig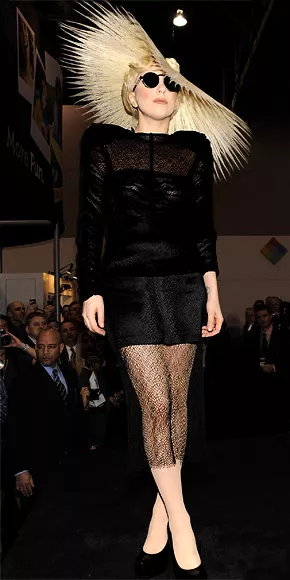 This Joan Crawford-inspired look featured a wig and picture hat, along with a lace dress with '40s-chic padded shoulders.
The Biker Look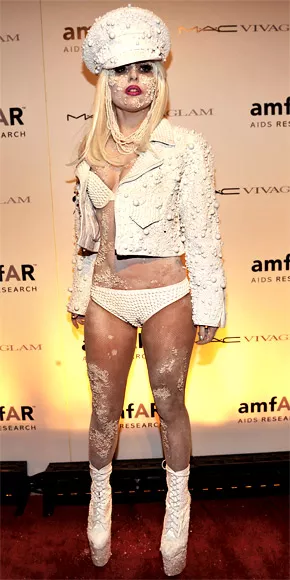 In 2010, Gaga rocked the amfAR New York Gala in a pearl-encrusted bikini and a motorcycle jacket by Haus of Gaga. Her face was adorned with additional iridescent orbs.
The Black and White Dress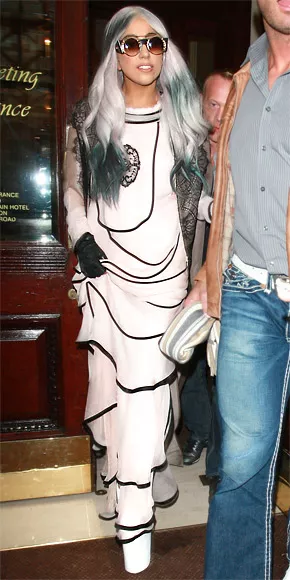 Gaga stunned in a chiffon-tiered Ingrid Vlasov gown with leather gloves, showcasing her ability to make even the simplest of designs look avant-garde.
The Elizabethan Gown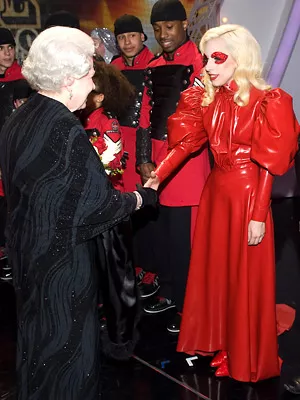 Gaga brought Queen Elizabeth I vibes to meet Queen Elizabeth II in a latex gown by Atsuko Kudo, complete with a matching ruff collar.
The Big Coif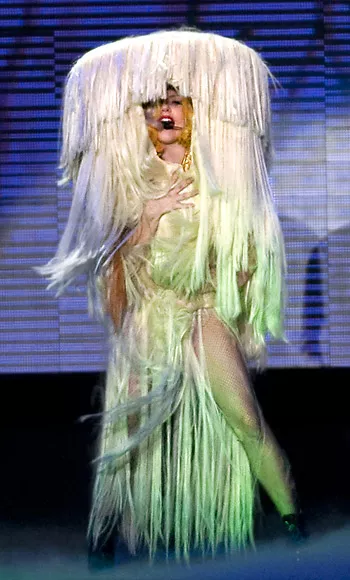 Performing in Paris, Gaga appeared under a canopy of human hair created by Charlie le Mindu, a true spectacle.
The Living Dress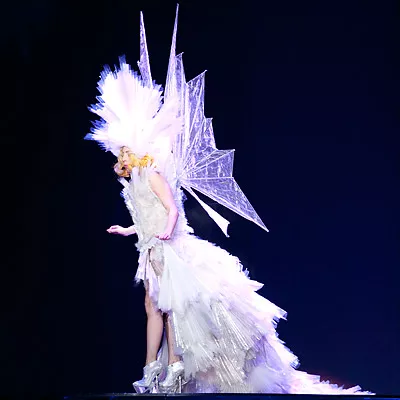 Gaga's "living dress" was inspired by Hussein Chalayan, unfurling and changing shape during her performance of "I'm So Happy I Could Die."
The Graduation Look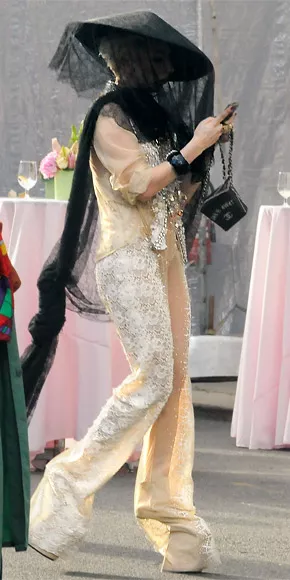 For her sister's high school graduation, Gaga went incognito in a sheer lace jumpsuit, veiled hat, and a Chanel bag.
The Telephone Chapeau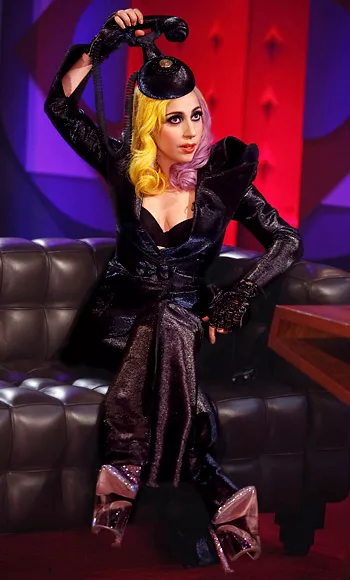 Gaga chatted with Jonathan Ross in a Giorgio Armani Prive outfit and a Philip Treacy hat, proving that even a telephone can be a fashion accessory.
The Super Bowl Ensemble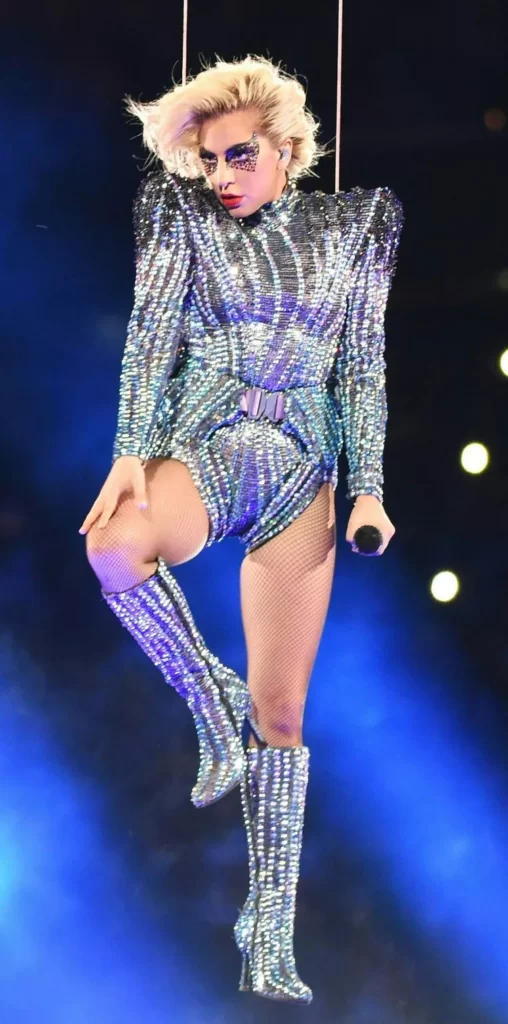 Gaga's 2017 Super Bowl entrance was a spectacle in itself, with a metallic jumpsuit and exaggerated shoulder pads, culminating in a daring mid-air "leap."
The Dishwasher Gloves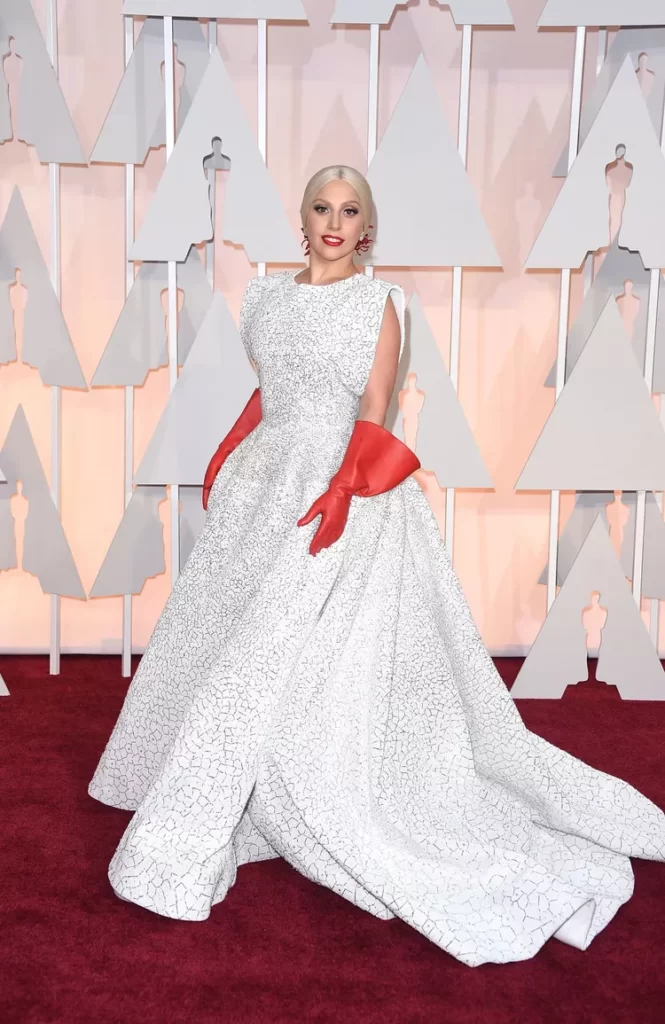 At the 2015 Oscars, Gaga wore a structured Azzedine Alaia gown with bright red gloves that turned heads.
The Bra-as-Shirt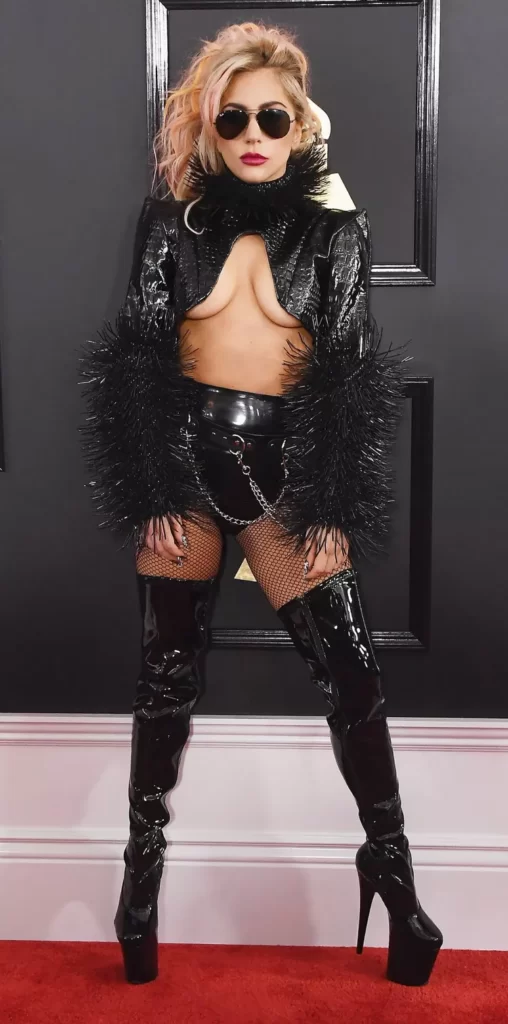 Gaga's 2017 Grammy Awards look featured a crop top, spiked sleeves, chain-link adorned hot pants, and patent leather OTK boots.
The Regal Star Is Born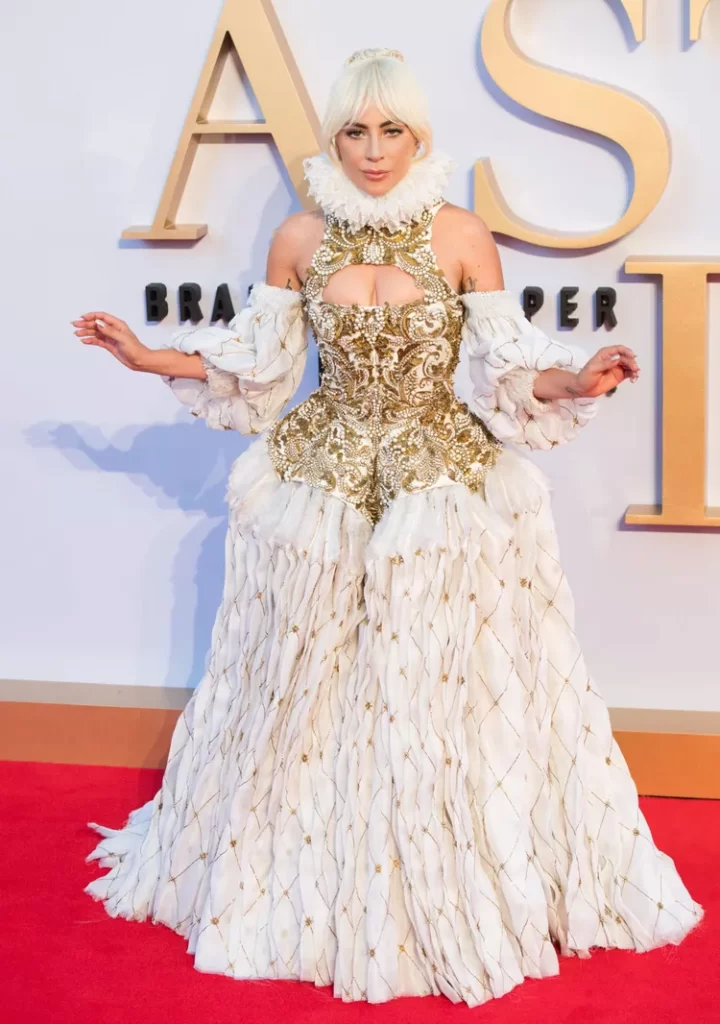 At the UK premiere of A Star Is Born, Gaga donned an Elizabethan-inspired Alexander McQueen look, exuding regal elegance.
Met Gala Barbie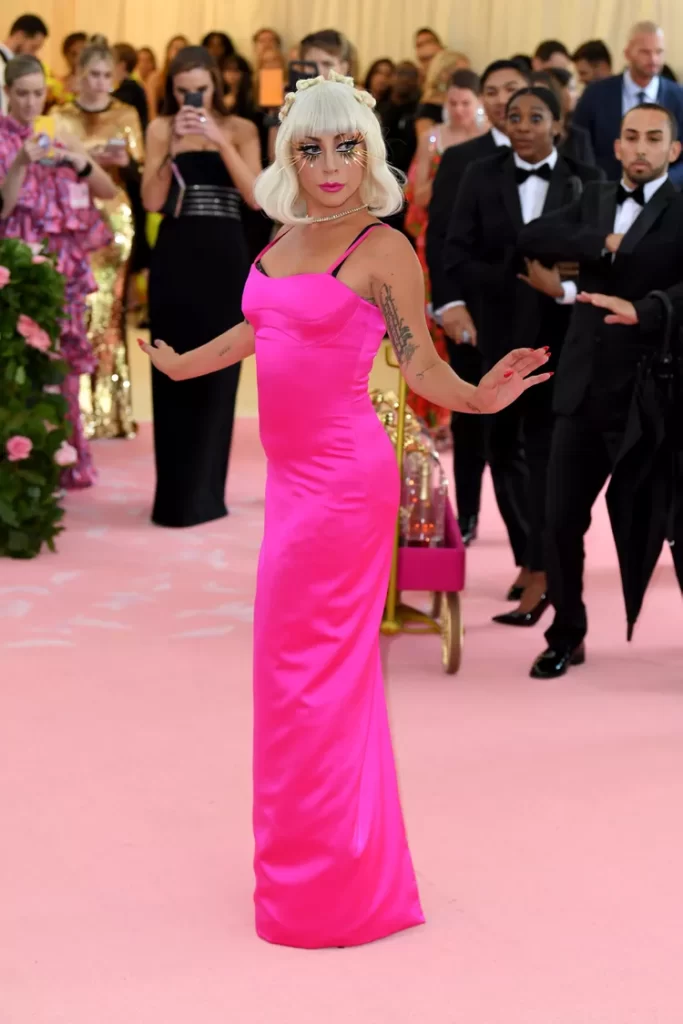 The Met Gala is Gaga's playground, and at the 2019 camp-themed event, she stunned in a hot pink slip gown, a true blend of pop art and Barbiecore.
Fashionaut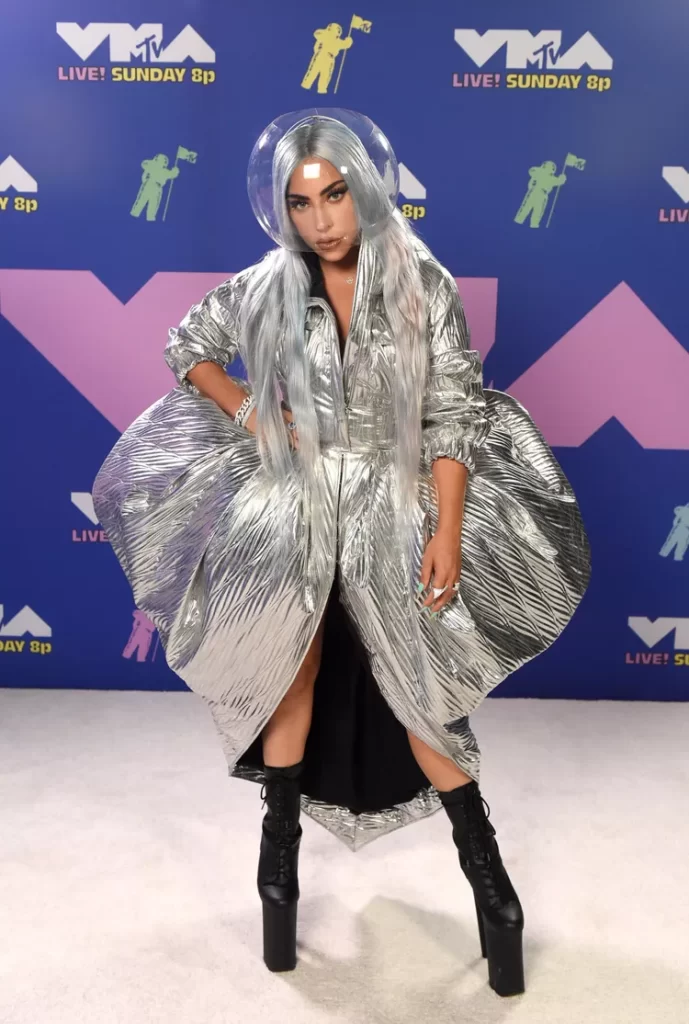 Gaga embraced the astronaut theme at the 2020 MTV Video Music Awards, with metallic attire paying homage to the moon person statue.
House of Gucci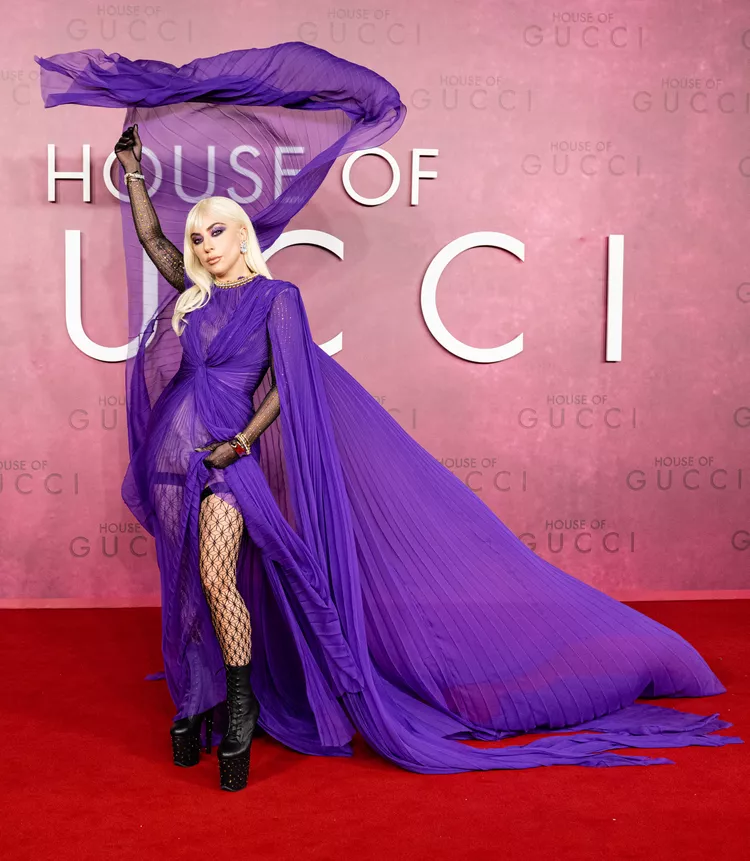 Italian glamour met Lady Gaga at the UK Premiere Of House of Gucci, where she wowed in a flowy purple number and her signature platform boots.
Hollywood Glamour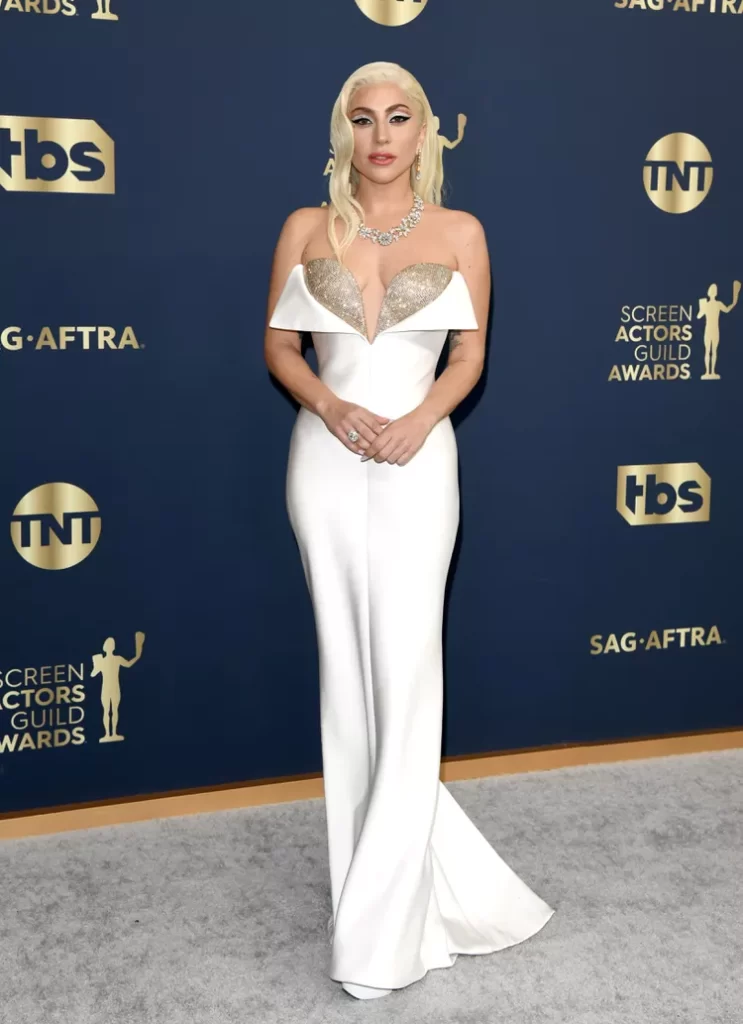 Stepping out at the SAG Awards, Gaga exuded Old Hollywood glamour in an elegant Armani Privé gown.
GAGA Style New York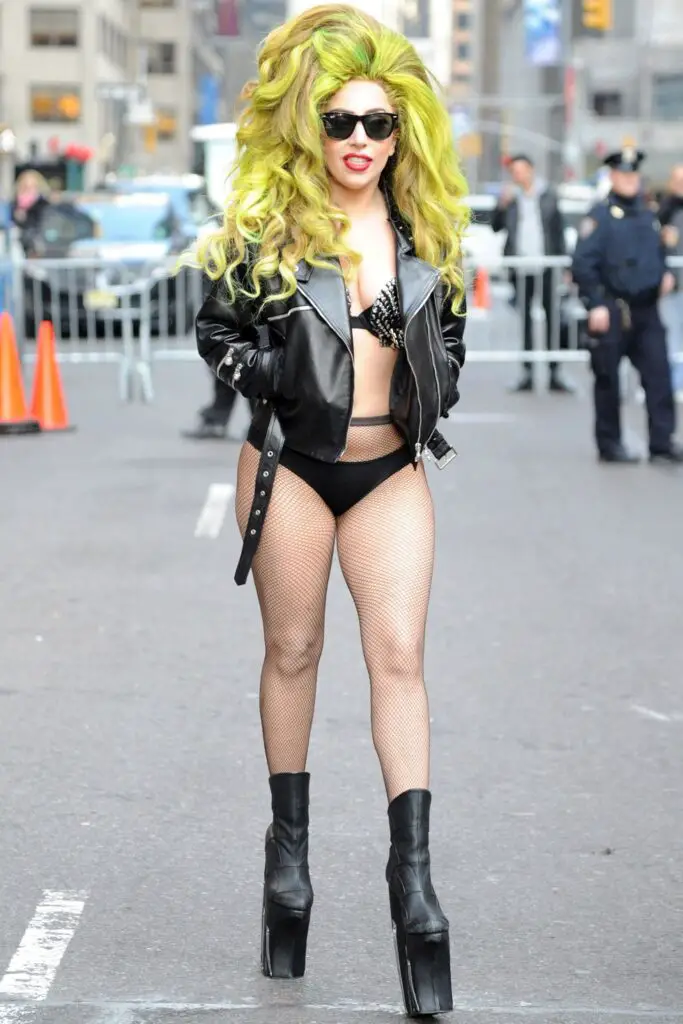 Lady Gaga's fashion journey has been a rollercoaster of creativity, pushing boundaries, and challenging norms. From meat dresses to regal gowns, she has kept us captivated and entertained.
Gaga's ability to reinvent herself and surprise us at every turn is truly remarkable. We can't wait to see what bold looks she'll serve up next!
You May Like!
Frequently Asked Questions!
What is Lady Gaga's most iconic outfit?
Gaga's meat dress at the VMA's is arguably her most iconic outfit, known for its bold statement and political message.
How does Lady Gaga come up with her fashion ideas?
Lady Gaga draws inspiration from various sources, including art, pop culture, and personal experiences, to create her unique fashion looks.
Has Lady Gaga ever toned down her style?
Yes, Lady Gaga has occasionally opted for more elegant and classic ensembles, especially when promoting her acting projects.
Who are some of the designers Lady Gaga has collaborated with?
Lady Gaga has collaborated with renowned designers like Giorgio Armani, Alexander McQueen, and Thierry Mugler, creating iconic fashion moments.
What is Lady Gaga's fashion philosophy?
Lady Gaga's fashion philosophy is rooted in self-expression, art, and performance. She sees her entire life as an artistic canvas and uses fashion as a medium to convey her creativity.
SEE more!