Lion's Mane Jellyfish: The World's Largest Jellyfish Ever Recorded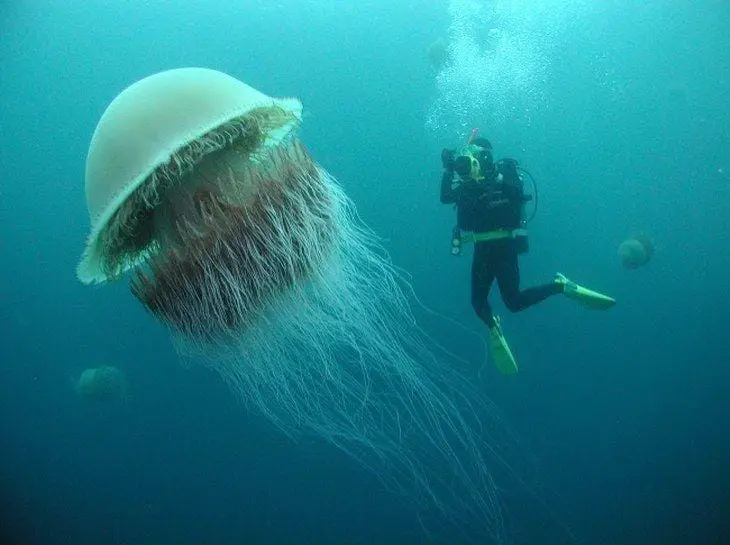 Have you ever considered coming face to face with a jellyfish that is larger than you? It would, without a doubt, be so horrible.
The lion's mane jellyfish is the biggest of the jellyfish, measuring 120 feet ( 36.5 m ) from top to bottom of its tentacles.
In 1865, Alexander Agassiz discovered this world's largest jellyfish. It was discovered off the coast of Massachusetts and had a 7-foot-diameter bell.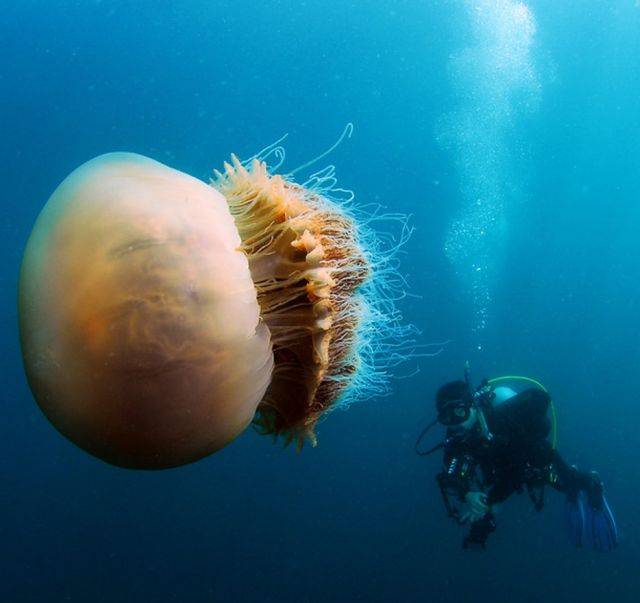 The jellyfish's mouth is covered by tentacles. Some jellyfishes with the height of their tentacles, also challenge the size of the blue whale, the world's largest mammal. Tentacles surround the mouth, which is located on the bottom of the bell.
These tentacles are organized into eight clusters, with each cluster containing up to 150 tentacles.
The Arctic and North Pacific Oceans, which stretch from Alaska to Washington, are home to the majority of lion's mane jellyfish.
When the prey is wrapped in one of these tentacles, the tentacles release nematocysts that are filled with poison and paralyze the animal.
The top of the bell is often a dark yellow or red hue, and it is thicker in the middle than it is on the borders. However, it thins out as it moves out from the center.
The lion's mane jellyfish is also capable of producing its own light and can shine in the dark when it is swimming under the deep ocean. This ability is known as bioluminescence.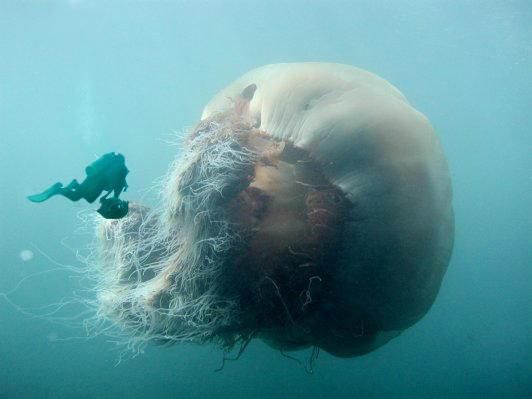 Lion's mane jellyfish are not only the biggest species of jellyfish in the world, but they also possess a potent sting that they deploy to capture their prey.
The vast majority of humans have very little to worry about when it comes to this venomous jelly, but its poison is more than enough to frighten away enemies, creating a safe place for both the jelly and those species who are fortunate enough to be resistant to the toxin.
What is the most poisonous jellyfish?
Box jellyfish are often regarded to be the most poisonous aquatic creature in the world with a box-like body structure. Box jellyfish have a dangerous toxin transmitted via their tentacles, which may be lethal. Box jellyfish, such as the Australian box jellyfish, have been known to give people horrible, agonizing stings that may be deadly.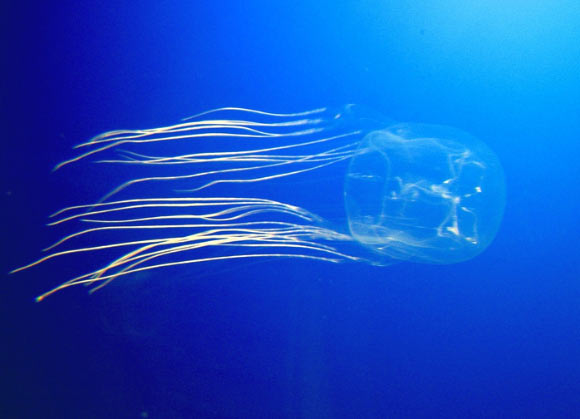 LION'S MANE JELLYFISH: The World's Largest Jellyfish
THE WORLD'S 10 MOST DANGEROUS OCEAN CREATURES
The Top 10 Largest Animal Catches of All Time
Did You Know?
Giant Oceanic Manta Rays can Reach a Wingspan of 30 feet and Weigh More than 6,000 pounds.